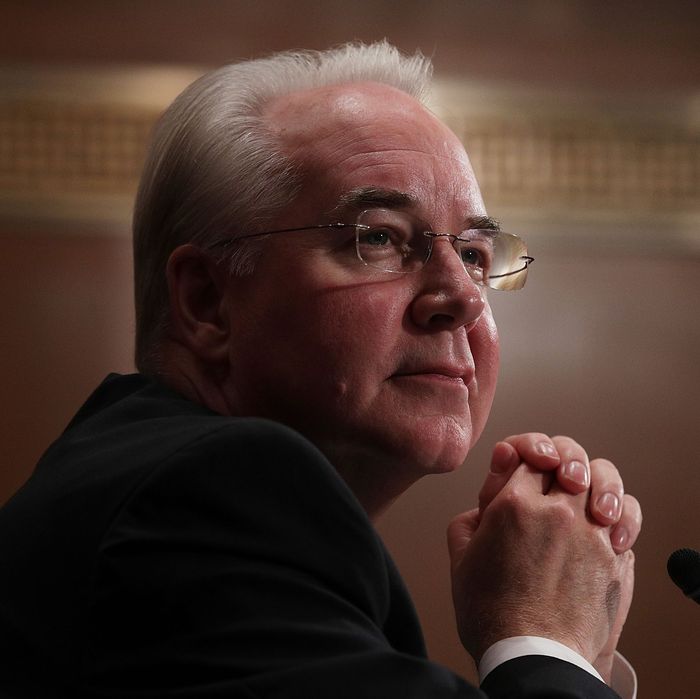 Who among us wouldn't risk it all to avoid flying coach?
Photo: Alex Wong/Getty Images
President Trump has made a habit of publicly hinting that he might fire officials in his administration, and on Wednesday Health and Human Services Secretary Tom Price was in the hot seat (again). When asked if Price might lose his job over revelations that he spent $400,000 of taxpayer money on at least 26 flights on private charter planes, Trump replied, "We'll see."
"I was looking into it, and I will look into it. And I will tell you personally, I'm not happy about it," Trump added. "I am not happy about it. I'm going to look at it. I am not happy about it, and I let him know it."
The New York Times reported that for days Trump has been fuming to senior aides about how Price is undercutting his "drain the swamp" message — and things only got worse on Thursday:
The president's anger has escalated over the past 24 hours, and has told at least one person close to him that he reserves the right to fire Mr. Price if new revelations come to light that reflect badly on Mr. Trump.
Price tried to make amends on Thursday, vowing to stop taking private charter flights and repay the government for his travels. "The taxpayers won't pay a dime for my seat on those planes," he promised.
Upon further examination, taxpayers will still pay quite a few dimes for the flights Price chartered. Later, HHS confirmed that Price would write a check to the U.S. Treasury for $51,887.31 — just a fraction of the costs. The key term in Price's statement was "my seat"; though he's reportedly worth $13.6 million, the secretary isn't covering the cost of the staffers and security personnel who accompanied him on his trips.
Apparently Price wasn't promising to cover the cost of military flights either, and it turns out that was a smart move. On Thursday evening, Politico reported that Price used military aircraft for multinational trips to Africa and Europe in the spring, and Asia in the summer. Those flights cost $500,000, bringing the grand total of taxpayer funds spent on Price's travel to more than $1 million since May.
While questions have been raised about Price's use of private planes for domestic trips that include personal stops — like arriving 40 hours early to a conference at a resort — one former HHS secretary said all of his overseas stops were appropriate: "It's just how he got there." For comparison, Obama-era HHS secretary Kathleen Sebelius said that during her five-year tenure she always flew commercial on foreign trips.
HHS said the military flights were necessary for security, and to provide Price with a secure way of communicating with Washington. The secretary pleaded his case in a Fox News interview on Thursday night.
"All of these trips were official business," Price told Bret Baier. "All of them were approved by the normal processes that every other administration has gone through prior to the trip, not after. But we've heard the concerns."
It's worth nothing that Price offered his mea culpa on a program Trump was likely to see, but if he keeps his job, that probably won't be what saved him. Thanks to Politico's reporting on Price, other journalists, and the House Oversight Committee, have started digging into the travel habits of other Trump officials. Earlier this week, the Washington Post revealed that Environmental Protection Agency Administrator Scott Pruitt took four military and private flights from February to August, which cost taxpayers a total of $58,219.19.
As Price was trying to clean up the scandal on Thursday night, the Post reported that this summer Interior Secretary Ryan Zinke and his staffers chartered a flight from Las Vegas to a town near Zinke's home in Montana, on a private plane owned by executives of a Wyoming oil-and-gas-exploration firm. The trip cost taxpayers $12,375, but there are daily flights between the two airports that offer seats for $300.
To make matters worse, Zinke's business in Nevada sounds more beneficial to him personally than to the American public:
Zinke took the private charter flight in late June after giving a motivational speech to the Vegas Golden Knights, the city's new National Hockey League team. The team is owned by Bill Foley, chairman of Fidelity National Financial. Employees and political action committees associated with the financial services company donated a total of $199,523 to Zinke's two congressional campaigns, Federal Election Commission records show.




Zinke was in the Las Vegas area that day after flying on a commercial Southwest Airlines jet from Reno, Nev., where he spoke the night before at a nearby dinner in Lake Tahoe held by the Rule of Law Defense Fund, a conservative group of attorneys general backed by the Koch brothers.




Just before the Golden Knights dinner, Zinke had appeared in the tiny rural Nevada town of Pahrump to announce a routine local funding grant from Congress to rural communities. It was one of several official trips that coincided with weekends Zinke spent at his homes in Santa Barbara, Calif., and Montana.
"Secretary Zinke's entire Nevada trip appears to be a flimsy excuse for a political event in Tahoe and a thank-you dinner with his biggest campaign bundler," said Aaron Weiss of the Center for Wester Priorities, a nonpartisan conservation and advocacy organization.
Internal and congressional reviews are evaluating each of these trips, but with daily revelations about cabinet officials' lavish travel on the American people's dime, it's hard to see how Trump could single out Price for punishment.
Then again, the president certainly isn't concerned about consistency. He's already defended Treasury Secretary Steven Mnuchin, who inquired about using a government plane for his European honeymoon and took his new bride to Kentucky on a government plane. (Mnuchin, whose net worth may be as high as $500 million, has refused to rule out taking military jets going forward.) Multiple members of Trump's cabinet may be wasting taxpayer money on private flights, but only one of them repeatedly failed to usher Obamacare repeal through Congress.