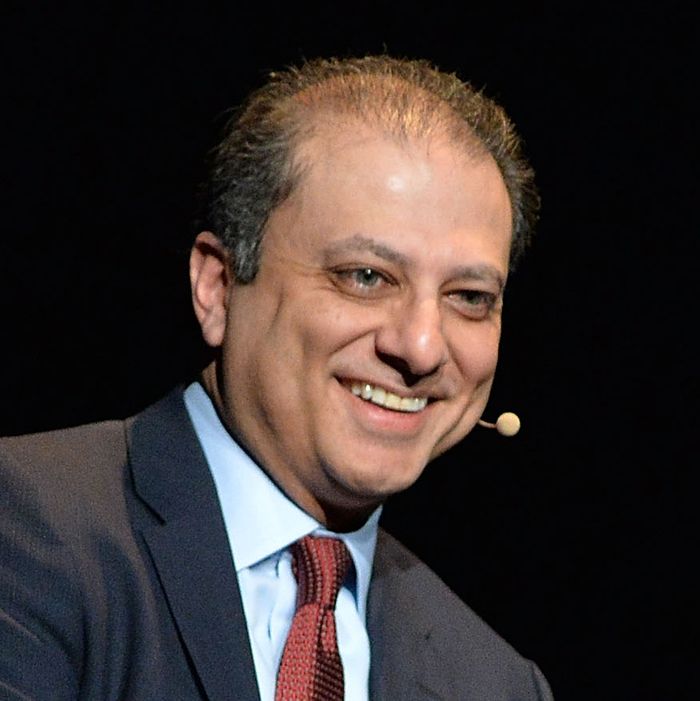 Photo: Slaven Vlasic/Getty Images
Preet Bharara, the former U.S. attorney in Manhattan who was fired by the Trump administration in March, posted a video on Twitter Wednesday in which he interviews himself on why he's launching a new podcast. "I'm doing a podcast because I care about justice, I care about fairness, I care about amplifying my voice … and I couldn't get a TV show," he jokes.
Bharara is making progress on that front. According to Politico, he's been hired by CNN as a senior legal analyst. Bharara has made guest appearances on a number of TV shows, and his new gig means he should be a frequent presence on the network.
It appears CNN is trying to beef up its coverage of President Trump's many legal troubles. The network also hired another frequent Trump critic, former director of the U.S. Office of Government Ethics Walter Shaub, as a contributor.
Bharara devoted the first episode of his new podcast, Stay Tuned With Preet, to discussing how he came to be fired by President Trump. He said Trump had him write down his phone number during their initial meeting in December, which bothered him because "as a general matter, presidents don't speak to U.S. attorneys." Sure enough, Trump called him several times, and at one point left a voice-mail that Bharara did not return because he felt it would be inappropriate. A short time later, Trump's Justice Department told all 46 Obama-appointed federal prosecutors to submit their resignations. He refused, and was promptly fired.
Bharara said he doesn't think he would have lasted long under the Trump administration, even if there wasn't a call for resignations.
"It's my strong belief that at some point, given the history, the president of the United States would have asked me to do something inappropriate," he said. "And I would have resigned then."
Bharara has had no shortage of employment opportunities since losing his job as U.S. attorney. In addition to the podcast and the CNN gig, he is a distinguished scholar in residence at NYU's School of Law and an executive vice-president at Some Spider Studios, his brother's media company. His expanded media presence will do nothing to tamp down the longtime speculation that he's considering a run for office.