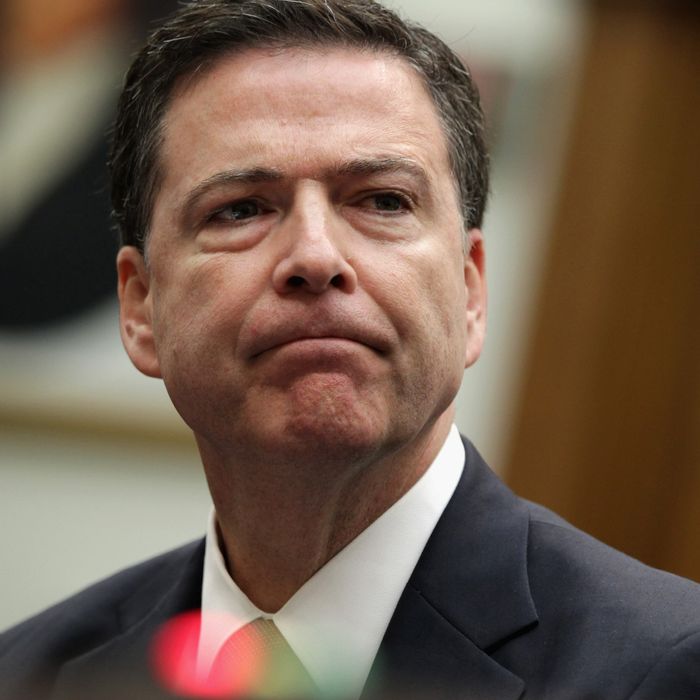 Comey.
Photo: Alex Wong/Getty Images
Between his infamous intervention in the 2016 general election and his starring role in the unfolding Trump-Russia saga, it's difficult to remember that former FBI director James Comey once courted controversy for something completely unrelated to presidential politics.
At a convocation address at Howard University on Friday, Comey got a reminder.
During his address to the historically black school, Comey was booed and heckled persistently by a faction of the students. Protesters chanted, "No justice! No peace!," "White supremacy is not a debate," and other slogans as Comey was rendered speechless.
"I love the enthusiasm of young folks, but I wish they understood what a conversation is," Comey said.
CNN reported that "Comey stood silently for over 15 minutes as the students yelled, 'I love being black' and 'Get out James Comey — you're not our homey.'"
The majority of the crowd did not take part in the chants — some told news outlets that they objected to the tactics — and Comey eventually finished his address to a standing ovation.
In 2015 and 2016, Comey advanced the theory that a so-called "Ferguson effect" was partly responsible for a rise in murder rates in some cities. He said that conversations with police officers had convinced him that the fear of being videotaped and ending up in the national spotlight — like the one that shone on Ferguson, Missouri, in 2014 — was making officers fearful of carrying out routine police work, leading to an uptick in lawlessness.
The controversial theory, which the Obama administration did not share, has been widely debunked.
In a statement passed out at the speech, the protesting students, who call themselves HU Resist, said, "James Comey represents an institution diametrically opposed to the interests of Black people domestically and abroad," and "The 'Ferguson Effect,' for example, is an outright racist lie designed to undermine Black Liberation Movement."
Comey was appointed an endowed chair of public policy at the university in August, and is expected to "engage the Howard community through a lecture series" over the course of the academic year. He may want to bring a megaphone next time.