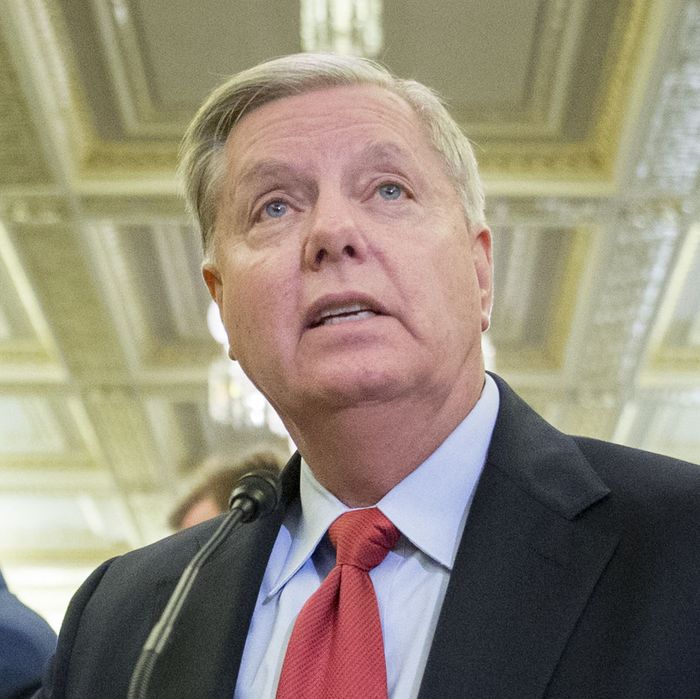 What if Obamacare repeal, but too much?
Photo: Andrew Harrer/Bloomberg via Getty Images
When senators Lindsey Graham and Bill Cassidy reintroduced their Obamacare repeal bill on Wednesday, it was largely met with derision. New York's Ed Kilgore noted, "Obstacles to its enactment include a lack of enthusiasm among GOP congressional leaders, some very questionable features, and perhaps most importantly an immovable September 30 deadline." A News and Observer editorial called it "little more than one more desperate attempt on the part of Republicans to do away with Obamacare."
Even Republican lawmakers publicly declared that Graham-Cassidy — which would basically let states do whatever they want with vastly reduced federal funding, among other radical proposals — wasn't going anywhere. Senator Rand Paul said he wouldn't support it, adding, "I haven't heard anybody talking about it." When asked if he thought it would get a vote, Senator Orrin Hatch said simply, "No."
But something shifted on Thursday. After making a presentation at the GOP caucus lunch, Graham said Majority Leader Mitch McConnell "encouraged everybody to jump onboard," adding, "I can tell you this if we had a vote right now we would get 47, 48 votes." Senator John Cornyn told the Hill that he's whipping the vote, saying, "My hope is we'll get that preliminary information back in the next few days."
Then, late on Thursday, a few health-care experts started sounding the alarm. Andy Slavitt, who was acting administrator of the Centers for Medicare and Medicaid Services in the Obama administration, said Republicans were working on a plan to bring the bill to a vote by the end of the month (thanks to the Senate parliamentarian, after that date it would need 60 rather than 51 votes).
Indivisible, which was crucial in organizing grassroots opposition to various forms of Trumpcare, called on its followers to "take action immediately" by contacting their senators and urging them to vote no on Graham-Cassidy. Angel Padilla, the group's policy director, warned that McConnell was trying to build momentum for the bill.
Upon closer examination, McCain — who was the deciding vote against McConnell's push for "skinny repeal" — doesn't seem that gung-ho on the bill, though he's close with Graham. On Wednesday McCain told reporters he supports the measure, despite his passionate call for a return to regular order. "If it's not through regular order then it's a mistake, but it doesn't mean I wouldn't vote for it," he said.
But later in the day McCain released a statement saying he needs to see the final bill, and actually does think hearings are necessary. "As I have said all along, any effort to replace Obamacare must be done through the regular order of committee hearings, open debate and amendments from both sides of the aisle," he said.
Though Trump's fiscal deal with Democrats cleared space on the September calendar to consider Obamacare repeal, there isn't time to get a Congressional Budget Office score, hold hearings on the bill, and bring it to a vote.
Some dismissed the new alarm over Graham-Cassidy, saying nothing had really changed.
As David Leonhardt of the New York Times pointed out this week, activists now know that they can never count on Trumpcare staying dead:
The lesson of the last year has been that Republican health plans can quickly change from long shots to near passage. They often benefit from a lack of attention. When the subject moves out of the spotlight, members of Congress feel more comfortable with the notion of taking health care away from millions of people. When people pay attention — and get mad — Congress steps back.
Even if Graham-Cassidy is a nonstarter, the new glimmer of repeal hope might derail the bipartisan effort to stabilize the Obamacare markets. Leonhardt said it was clear during a recent hearing on that effort that "Republicans have a hard time talking publicly about bipartisan compromise so long as the fantasy of a beneficial repeal bill remains alive."