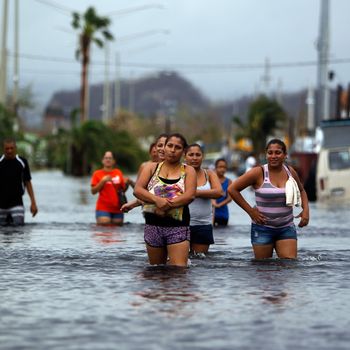 Hurricane Maria aftermath in San Juan, Puerto Rico.
Photo: Ricardo Arduengo/AFP/Getty Images
Cleanup and recovery efforts are well underway in Puerto Rico Friday, two days after Hurricane Maria made landfall on the island's southeastern edge as a Category 4 storm. The danger, however, has not passed.
At around 2:30 p.m. Friday afternoon, a dam in the northwestern part of the island failed, leading the National Weather Service to declare a "flash flood emergency." The failure of the Guajataca Dam put communities around the Guajataca River in grave danger. Residents of Isabella and Quebradillas were told to "move to higher ground now."
"Act quickly to protect your life … Buses will be evacuating people from these areas," the National Weather Service said.
Earlier Friday, Puerto Rico's public safety officer Héctor M. Pesquera said at least six people had died in the storm, but stressed these were official numbers that did not include all of the storm-related deaths. "These are fatalities we know of," Pesquera said. "We know of other potential fatalities through unofficial channels that we haven't been able to confirm."
Puerto Rico's governor Ricardo Rosselló had previously told CNN that 13 people were dead. El Nuevo Día newspaper says 15 people have died.
The rain has yet to stop in Puerto Rico, which is still getting hit by Maria's outer bands as the eye of the storm works its way toward the east coast of the U.S. The British islands of Turks and Caicos bore the brunt of the storm of Friday.
Rescuers have already saved 700 people from floodwaters, Rosselló told CNN. That number will only climb as first responders make their way to the more remote areas of the island. That process is being complicated by the continued rain and a tangled web of damaged roads and bridges.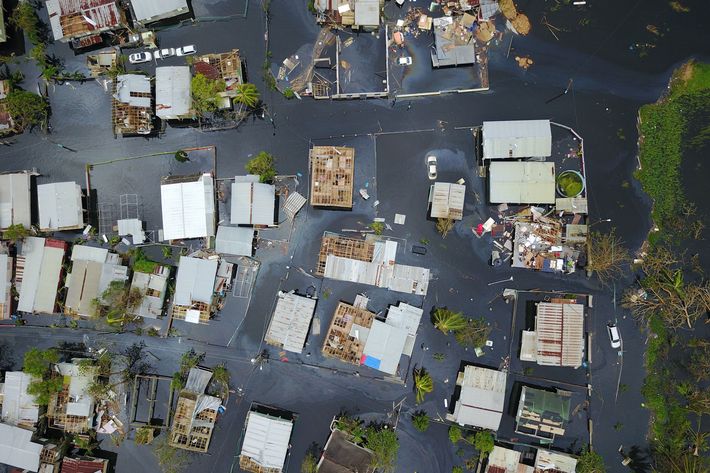 The lack of communication is further hampering rescue efforts. Ninety-five percent of cell-phone sites are out of service and the island is entirely without power. The U.S. military is attempting to help turn the electricity back on, but at the Pentagon, Air Force Reserve major general Derek P. Rydholm said that until Friday, "there was no real understanding at all of the gravity of the situation."
Utility crews from the mainland U.S. are also traveling to the island to get power back on line, but given the deteriorated state of the neglected grid before Maria even arrived, that will not be an easy task.
As rescue missions fan out across the island, Rosselló is warning people to stay inside. "It's still not safe in the roads," he said Friday. "There's still a great deal of flooding … Now is not the time — unless it's an emergency — to be on the roads." A 6 a.m. to 6 p.m. curfew is in place until Sunday.
Meanwhile, aid has begun to arrive in San Juan, the capital city. FEMA has sent generators, mattresses, food, and water. New York governor Andrew Cuomo led a delegation to the island Friday and brought supplies with him.
"We are going to be bringing down a number of emergency supplies," Cuomo said before departing on the trip, which was made at the request of Rosselló. "We're bringing large scale generators with us that can power necessary facilities and 36,000 bottles of water, 10,000 meals that are ready to eat, 3,000 canned goods, 1,400 cots, 1,400 blankets, 1,400 pillows and 1,400 flashlights."