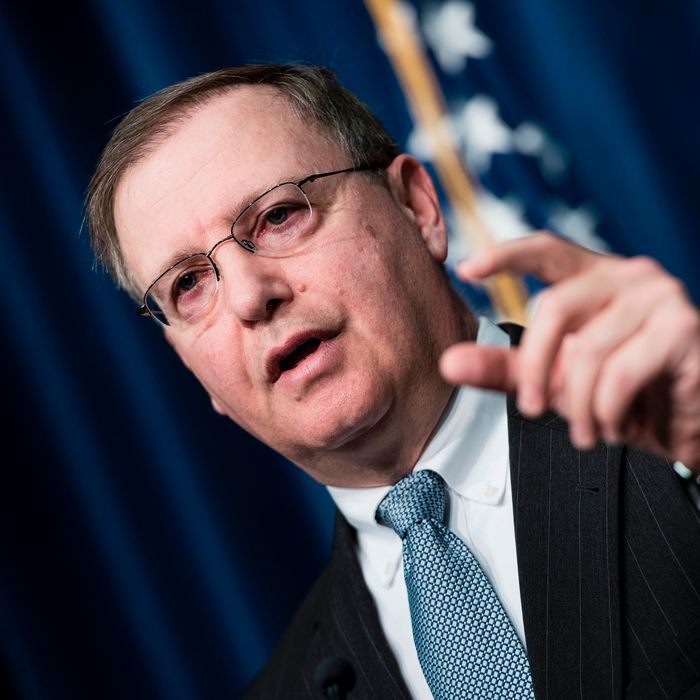 Chuck Rosenberg is through working for the Trump administration.
Photo: BRENDAN SMIALOWSKI/AFP/Getty Images
Chuck Rosenberg, the acting head of the Drug Enforcement Administration, said in an email to staffers on Tuesday that he will step down at the end of the week. He offered no reason for his exit, but he's publicly rebuked President Trump, and law-enforcement officials told the New York Times that he's become convinced that the president has little respect for the law.
Rosenberg's departure is not unexpected, as he was appointed by President Obama in 2015 and is close with fired FBI director James Comey, serving twice as his chief of staff. But as a career Justice Department employee, Rosenberg could have taken another senior position in the agency. He reportedly met with Deputy Attorney General Rod Rosenstein in late July and said he didn't want to be considered for permanent head of the DEA, or any other position in the Justice Department.
Politico reports that Rosenberg was already considering resigning when he sent a letter to all DEA staff after President Trump urged police officers to be rougher with suspects during a speech on Long Island.
He said he didn't believe anyone at the agency would "mistreat a defendant," but "we have an obligation to speak out when something is wrong. That's what law enforcement officers do. That's what you do. We fix stuff. At least, we try," Rosenberg wrote.
He listed the DEA's values — including "rule of law" and "integrity" — and said employees must "earn and keep the public trust and continue to hold ourselves to the very highest standards."
Former U.S. attorney Preet Bharara, who was fired by Trump, tweeted out his support for Rosenberg:
In his email to DEA staff, Rosenberg said he's proud to have led the agency, and made no mention of the president. "The neighborhoods in which we live are better for your commitment to the rule of law, dedication to the cause of justice, and perseverance in the face of adversity," he wrote. "You will continue to do great things. I will continue to root for you, now from the sidelines."
Rosenberg's resignation is effective October 1. It's unclear who will replace him, but the Washington Post reports that Colonel Joseph R. Fuentes, the head of the New Jersey State Police, is considered the leading contender.