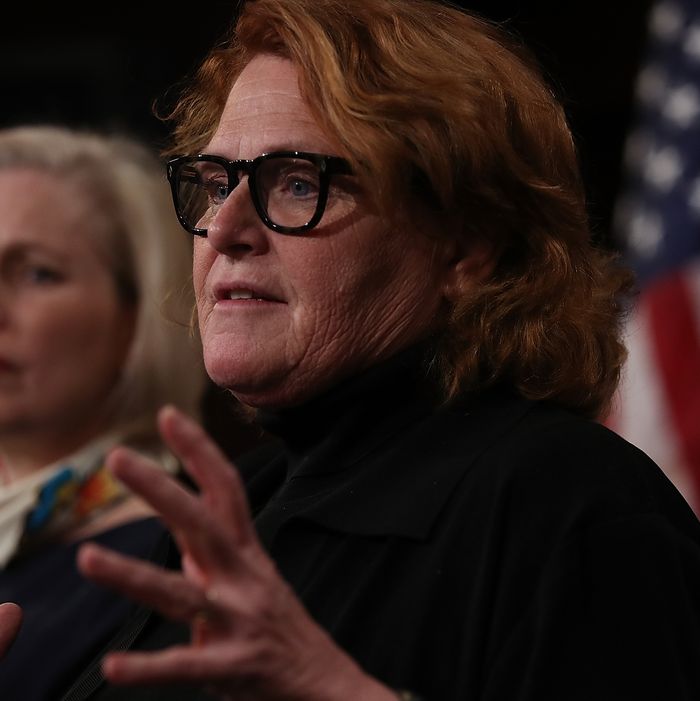 Heitkamp isn't a hard "no," which may be the best Trump can do.
Photo: Justin Sullivan/Getty Images
A Democratic senator has figured out how to ward off the worst of President Trump's bipartisan attacks on members of Congress — for now, at least.
Senator Heidi Heitkamp will become the first Democratic lawmaker to fly with Trump on Air Force One on Wednesday when she accompanies him to her home state of North Dakota. Trump is hoping to woo Heitkamp into supporting his tax-reform plan, and the White House is plugging her presence as the first sign of bipartisan support for overhauling the tax code.
But Heitkamp hasn't actually backed Trump's tax-reform plan. She told reporters she's against some rumored proposals, like taxing 401(k) plans, but she's been in touch with administration officials and wants to hear more.
"We've always said that we're interested in tax reform," Heitkamp said. "I continue to be curious about what the actual plan is."
Many share that curiosity, since Trump doesn't have a detailed reform plan. He does have a strategy to pass off tax cuts for corporations and the wealthy as populist, and during Wednesday's speech at the Andeavor oil refinery in Mandan, he'll call on Democrats to get onboard.
"Both of the Reagan tax cuts were passed by a Democratic majority in the House, a Democratic speaker, and the vast majority of Democrats in the Senate, including a Democratic senator from the great state of North Dakota," Trump plans to say, according to his prepared remarks. "If Democrats continue their obstruction — if they don't want to bring back your jobs, raise your pay, and help America win — voters should deliver a clear message: Do your job to deliver for America or find a new job."
Trump carried North Dakota by 36 points, so Heitkamp is smart to maintain a friendly but noncommittal approach to Trump. During his first event to promote tax reform in Missouri last week, Trump attacked Claire McCaskill, the state's Democratic senator, telling supporters they must "vote her out of office" if she fails to get behind his plan. Democrats probably won't be thrilled about Heitkamp standing next to Trump as he threatens their jobs, but they're likely to be forgiving.