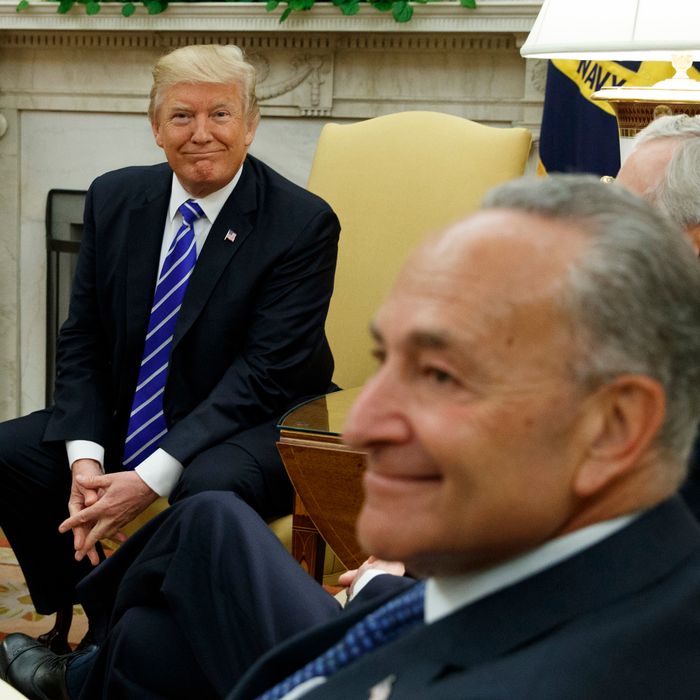 Schumer and Pelosi are making the most of Trump's bipartisan phase.
Photo: Evan Vucci/AP
A week ago, congressional leaders met with President Trump at the White House and he shocked Republicans by agreeing to a Democratic proposal to raise the debt limit and fund the government through December. On Wednesday night, Senate Minority Leader Charles Schumer and House Minority Leader Nancy Pelosi had dinner with Trump, and emerged with a deal to extend the protections provided by the Deferred Action for Childhood Arrivals program.
At least, that's what the Democrats claim. In a joint statement Pelosi and Schumer said that during "a very productive meeting" with President Trump, "We agreed to enshrine the protections of DACA into law quickly, and to work out a package on border security, excluding the wall, that's acceptable to both sides."
The White House — and Trump personally, in a series of tweets Thursday morning — disputes this characterization. The Trump administration's statement called the meeting "a positive step toward the president's strong commitment to bipartisan solutions," and merely listed DACA as one of several issues discussed. Press Secretary Sarah Huckabee Sanders tweeted that the president did not agree that there would be no funding for the wall, and White House legislative affairs director Marc Short said the Democrats' statement was "misleading."
Schumer's communications director, Matt House, clarified that Trump didn't say he was giving up on the wall, he just wasn't tying it to extending DACA.
Democratic House members said Trump made the same point during a bipartisan meeting earlier on Wednesday.
"He said, the wall doesn't have to be necessary," said Democratic representative Henry Cuellar. "He said we're going to add [wall funding] somewhere else … We've told him we don't want to tie this [together]. He said, 'DACA, we're going to do it early. We're going to do some kind of border security.' He brought up the wall. He said that doesn't have to be on this DACA bill."
Early Thursday, Trump tweeted that he actually hasn't reached a deal with Democratic leaders:
Faced with a fake deadline from conservative attorneys general, last week Trump announced that he would end the Obama-era program offering young immigrants protection from deportation. However, he seemed taken aback by the backlash, and quickly walked back his position. Hours after the official announcement, he said he has "great love" for Dreamers, and he then undercut his own efforts to spur Congress into action by tweeting that he would "revisit the issue" in six months if they fail to act.
A number of bipartisan bills under consideration would not only save DACA, but would expand it by making the protections law and possibly offering Dreamers a pathway to citizenship. If Trump has agreed to back such legislation, rather than solving his immigration woes, he's created a new backlash from the right. Representative Steve King, who famously suggested the DREAM Act would protect many drug smugglers with cantaloupe-size calves, said the damage to Trump's relationship with his supporters would be "irreparable."
And others on the right lamented the possibility that Trump is already betraying his core campaign promise:
Sean Hannity, however, knew who's really to blame: Senate Majority Leader Mitch McConnell and House Speaker Paul Ryan, who weren't even at the dinner:
Representative Cuellar told the Washington Post that during his meeting with Trump on Wednesday, he told the president that the DREAM Act had enough support to pass and the White House should be pushing for a vote. He says Trump replied, "Oh, it will be on the floor."
Even before Wednesday's dinner, there was disagreement between Trump and Republican leaders on when the plight of the Dreamers would be addressed. Trump said he expected Congress to act "real soon," but Ryan said it would take "weeks" to hammer out the issue.
Of course, Trump doesn't decide what legislation Congress votes on, and before becoming speaker, Paul Ryan promised that he wouldn't allow a vote on any immigration reform measure unless it had the support of a majority of Republicans. But it's hard to imagine Ryan taking a bold stand against his party's popular president. A source briefed on the dinner told BuzzFeed they didn't foresee the speaker being an issue: "Ryan would have to put that on the floor, but his party's president backs it, so presumably that will be fine," the person said.
This post has been updated to include Trump's tweets.