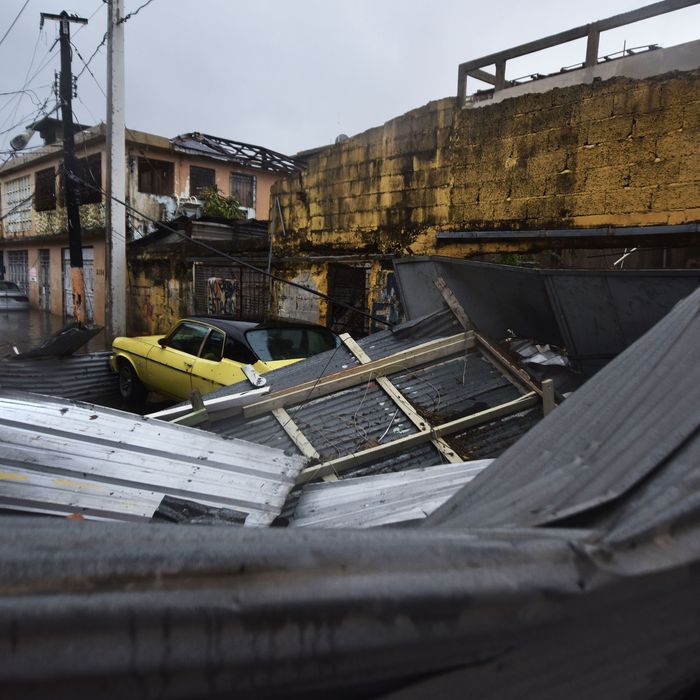 San Juan, Puerto Rico, after the passage of Hurricane Maria.
Photo: Jose Romero/AFP/Getty Images
After a day of hunkering down as Hurricane Maria thrashed the entire island, Puerto Rico woke up Thursday with a whole new set of challenges. Streets are flooding, homes have crumbled, and electricity is out for everyone after the strongest storm in 80 years wreaked havoc on the U.S. territory.
"I mean, there is devastation. People with wooden houses are no longer there. And all of the forests and palm trees — they're not there. It's bare soil. It is devastating, and I hope we can recover soon," Jenniffer González-Colón, Puerto Rico's nonvoting member of Congress, told NPR Thursday.
Maria hit Puerto Rico early Wednesday as a Category 4 storm, with winds topping out at 155 mph. As it passed overhead, the hurricane weakened but grew wider, ensuring that no part of the small island would escape its damage.
After Maria moved back out to sea Wednesday night, it picked up power as it moved northeast. With the winds tapering off, the threat of flooding increased in Puerto Rico. Just past midnight on Thursday morning, the National Weather Service issued a flash-flood warning for the entire island, telling people to "move to higher ground NOW!"
The storm surge began receding Thursday morning, but after more than two feet of rain, many streets are still underwater. The deluge is not expected to end until Saturday, at which time as many as 35 inches of rain will have fallen in some areas.
But even when the rains stop, it will be difficult to assess the toll Maria has taken. Many of the towns across the island are without communication given the massive and complete power outage after the damages sustained by Maria and Hurricane Irma before it. Puerto Rico's ailing electric grid was already in a shambles before hurricane season arrived. Now it will take weeks, even months, some say, to bring power back to Puerto Rico's 3.4 million people.
"The system has been basically destroyed," Ricardo Ramos, the CEO of Puerto Rico Electric Power Authority, told CNN.
Some reports have begun trickling in from around the island and they are as bad as expected. In Catano, a city on the island's northern coast, a neighborhood of just over 450 homes has seen 80 percent of them destroyed, Mayor Felix Delgado said. Three sisters were killed by a landslide in Utuado. And in Moca, a town in the northwest of the island, Governor Ricardo Rossello is calling the destruction "massive."
The picture is similarly bleak in the nearby U.S. Virgin Islands, where a 24-hour curfew is now in place as rescue teams assess the damage.
After tearing through Puerto Rico and the small island of Dominica, where as least 14 people have been reported dead, Maria now heads toward the Turks and Caicos islands as it pummels the Dominican Republic with winds and rain. Though the eye of Maria will miss the Dominican Republic, the country is expected to see a storm surge of as much as six feet.
Turks and Caicos and the southeastern Bahamas are expected to begin experiencing hurricane conditions late in the day Thursday, with 8 to 16 inches of rain expected, along with a potentially life-threatening storm surge raising waters as much 16 feet. Where the storm turns after that isn't entirely clear, though it's forecasted to miss another landfall on the mainland U.S. Those forecasts, however, may change.