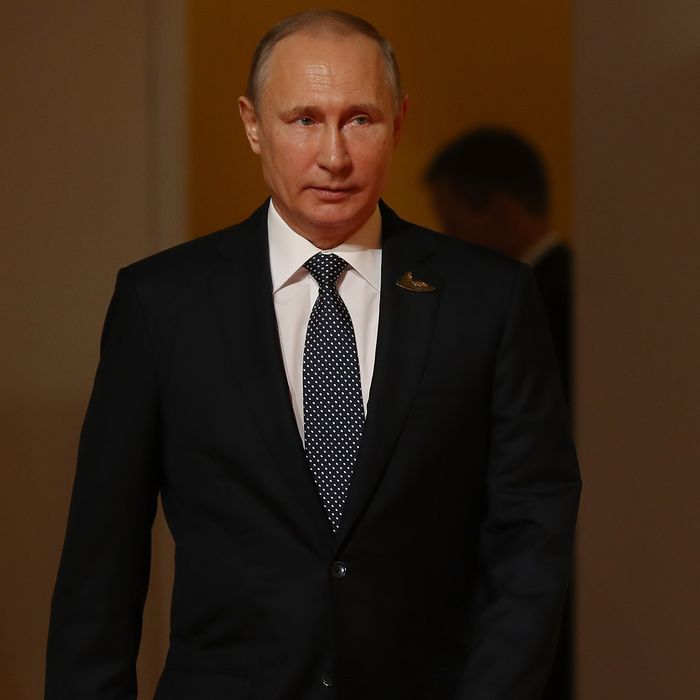 Remember me?
Photo: Sean Gallup/Getty Images
On Friday, the Department of Homeland Security told 21 states that hackers had attempted to breach their election systems last November.
The Associated Press reports that Arizona, Wisconsin, Maryland, Pennsylvania, and Virginia were among those notified.
Only Illinois has confirmed that its systems were successfully breached, and some states put out press releases Friday to confirm that no successful hacking had occurred.
A Department of Homeland Security official testified to Congress in June that Russia was behind the attempted hacks, which generally consisted of attempts to spot vulnerabilities in election systems — not to alter tallies of votes. The list of states targeted was not revealed at the time, and there was speculation that it would never become public.
Why the Trump administration took more than ten months to notify the relevant states is unclear. President Trump, of course, has vehemently denied that there was any Russian campaign to influence the election at all.
At least one state was wondering about the delay. A Wisconsin Election Commission press release confirming that "Russian government cyber actors" had tried unsuccessfully to penetrate the state's voting system also announced that the commission's chair had instructed staff "to investigate why election officials were not notified earlier."
And Virginia senator Mark Warner, vice-chair of the Senate Intelligence Committee, put out a statement echoing those concerns, saying it was "unacceptable that it took almost a year after the election to notify states that their election systems were targeted."