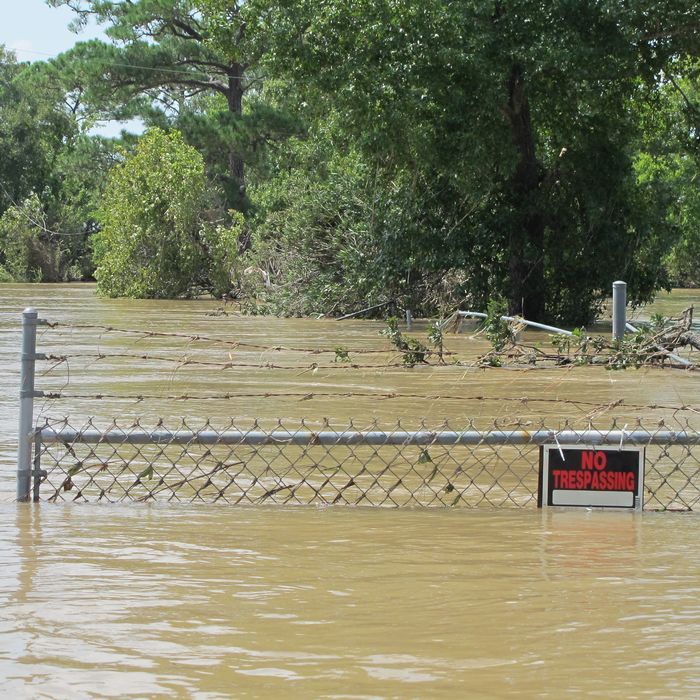 The Highlands Acid Pit, an EPA designated Superfund site in Highlands, Texas, after it was flooded with water from the nearby San Jacinto River as a result of Hurricane Harvey.
Photo: Jason Dearen/AP
On Saturday, the Associated Press reported that several Houston area Superfund sites had been severely flooded in the aftermath of Hurricane Harvey, "with the risk that waters were stirring dangerous sediment." An AP reporter visited seven of the Superfund sites — so designated because of their heavy concentrations of hazardous waste — in and around the city, and found that "all had been inundated with water, in some cases many feet deep." The report also noted that no one from the Environmental Protection Agency had accessed the sites since the storm hit and cited an EPA study during the Obama administration warning that "floodwaters might carry away and spread toxic materials over a wider area."
On Sunday, the EPA responded by attacking one of the reporters who wrote the story, while not disputing any of the facts involved.
An EPA statement, written in the jarringly caustic and grammatically sloppy style that characterizes so many Trump administration communiqués, begins:
Yesterday, the Associated Press' Michael Biesecker wrote an incredibly misleading story about toxic land sites that are under water.

Despite reporting from the comfort of Washington, Biesecker had the audacity to imply that agencies aren't being responsive to the devastating effects of Hurricane Harvey. Not only is this inaccurate, but it creates panic and politicizes the hard work of first responders who are actually in the affected area.
The other AP reporter in question, Jason Dearen, was reporting from Houston, but the statement ignores him.
The agency goes on to say that "through aerial imaging, EPA has already conducted initial assessments at 41 Superfund sites — 28 of those sites show no damage, and 13 have experienced flooding." It hits the AP report for being "misleading" by leaving out "the fact that EPA and state agencies worked with responsible parties to secure Superfund sites before the hurricane hit," though it doesn't go into any detail about what that process entailed.
The EPA also maintains that the agency "has a team of experts imbedded [sic] with other local, state and federal authorities, on the ground responding to Harvey — none of which Biesecker included in his story."
The EPA had put out a statement on Saturday saying that 11 of the Houston Superfund sites were still inaccessible because of floodwaters, but that agency personnel would be on the scene as soon as possible.
Bizarrely, Sunday's statement goes on about Biesecker, the AP reporter. It links to a correction Biesecker made on one of his previous articles about EPA administrator Scott Pruitt — he reported a meeting between Pruitt and the CEO of Dow Chemical that didn't happen — and to a Breitbart article calling that relatively minor error a "CNN-level scandal." Also included is a June editorial in The Oklahoman, which serves as an example of others calling out Biesecker's "sensationalized reporting." (The reporting in question involved Pruitt's extremely cozy ties with power brokers in the industries his agency is supposed to regulate. Oklahoma is Pruitt's home state.)
Pruitt has basically been running the EPA as an oil-and-gas-industry welfare office, and doing most of it in secret. Whether his inattention to the "environmental" or "protection" parts of his agency's name will have consequences at Houston's Superfund sites remains to be seen. But the agency's tactic of attacking the media to distract from legitimate questions is damaging enough already.