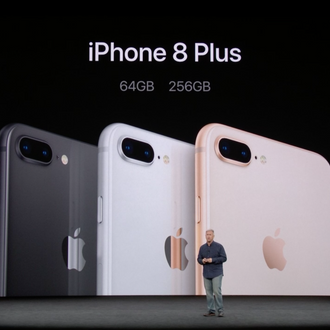 Among several new products introduced at the Apple Event today in California — Watches! TVs! Homepods! Oh, my! — the company finally announced what would be, in any other universe, the biggest product of the day: the iPhone 8.
Of course, in this universe, the iPhone 8's flashier sibling, the iPhone X, which Apple also introduced on Tuesday, is the hottest thing. But given the limited supply and high price of the iPhone, it seems like the iPhone 8 is going to end up in a lot of hands, and you've probably got some questions. We've got your answers.
What does it cost?
The iPhone 8 starts at $699 for a 64-gigabyte model. The iPhone 8 Plus — the same phone, just larger, and with a dual-lens camera, starts at $799 for the same amount of storage.
What new things does it do?
Starting off with the biggest change, the new phones are enabled with wireless charging capabilities. The iPhone 8 and iPhone 8 Plus both have a 12-megapixel camera, which Apple promises means "better color saturation" and "lower noise in photos and videos." iPhone 8 Plus also has a new feature called "Portrait Lighting," which will allow users to change the lighting between a photo's background and subject. (That's currently in beta and not available on the iPhone 8.) The devices are sealed for water and dust resistance. (The iPhone 7 has this, too, but it's still damn handy.) The speakers on iPhone 8 and iPhone 8 Plus are 25 percent louder than previous phones. Both devices are better equipped for Apple's ever-growing forays into augmented reality, AR Kit and Metal 2. (Demos included holding up the phone to a baseball game in real time and being shown the score and player profiles.)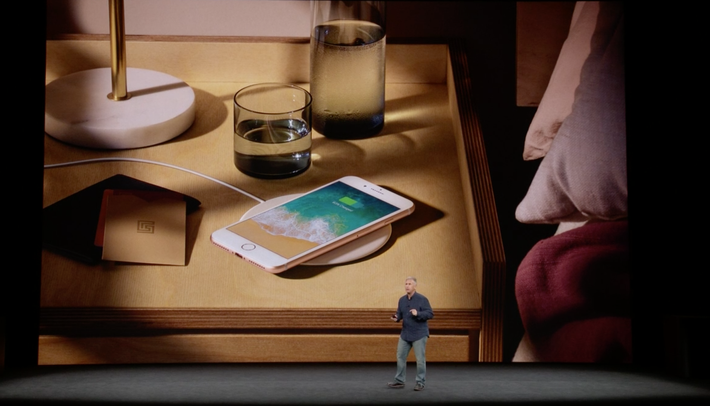 What does it look like ?
You've got three color options if you're shopping for the iPhone 8. Silver, space gray, and gold. (Which, honestly looks a little pinkish.) The front and back of the phone is glass. So you're definitely going to need a case if you're worried about smudging or scratching. The iPhone 8 has a 4.7-inch Retina display and the iPhone 8 Plus has a 5.5-inch Retina display.
When can I buy it?
The new devices will be available September 22, just a few days after iOS 11 is released. Which gives you plenty of time to make sure you've backed up everything on your current phone. (Which you obviously do on a regular basis to protect your content.)