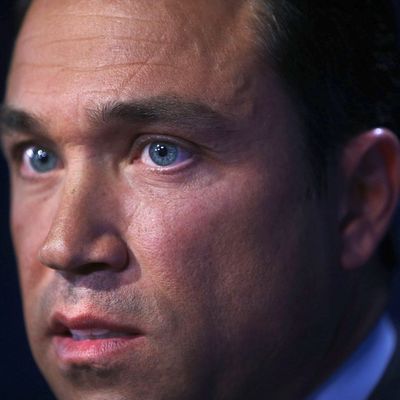 Mikey Suits.
Photo: Spencer Platt/Getty Images
Former Staten Island congressman Michael Grimm, who served eight months in federal prison for tax fraud in 2015 and 2016, will announce his intention to run for Congress this weekend, the Staten Island Advance reports. Grimm also hinted at the announcement on Twitter.
Nearly a year and a half removed from prison, Grimm is set to launch a primary challenge against Representative Daniel Donovan, the Republican who won a May 2105 special election after Grimm's resignation. Donovan easily won reelection last year, but a well-known if flawed figure like Grimm might present a formidable primary challenge in reliably red Staten Island.
The former FBI agent, who worked undercover as a crooked Wall Street trader known as Mikey Suits, still has his loyal supporters in Staten Island, the Advance reports. Grimm could also benefit from a post-Trump, post–Greg Gianforte era in politics, when making, and following through on, physical threats to reporters isn't nearly as taboo as when Grimm did it.