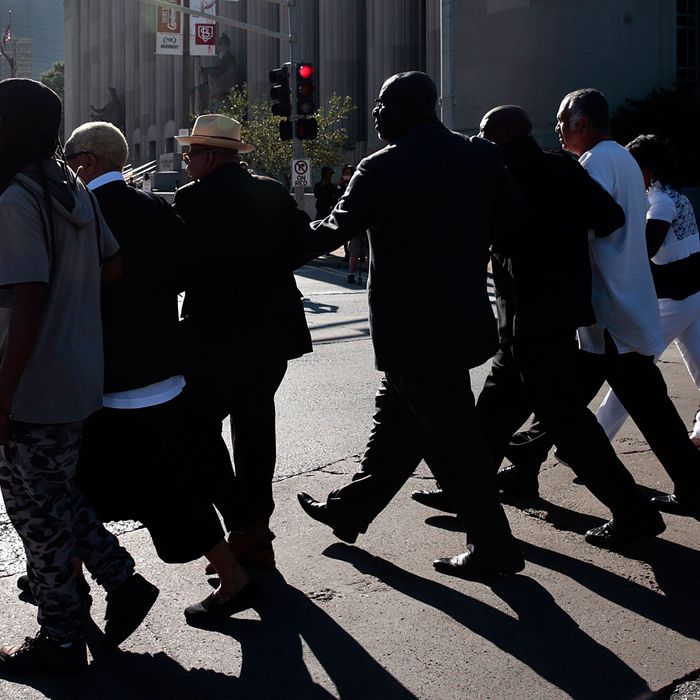 Protesters take to the streets in St. Louis.
Photo: Robert Cohen/St. Louis Post-Dispatch/TNS via Getty Images
Former St. Louis cop Jason Stockley was found not guilty of first-degree murder Friday, nearly six years after he shot and killed Anthony Lamar Smith in his car.
Protesters gathered in downtown St. Louis after Judge Timothy Wilson read his verdict, declaring that the state had not "proven every element of murder beyond a reasonable doubt." As local activists, who had pledged "mass disruption" in response to a not guilty verdict, took to the streets, they drew support from at least one motorist.
"I think the verdict is disgusting," Damone Smith, an electrician on his way to work, told the St. Louis Post-Dispatch. "I'm proud of these people protesting. If you look like me, then you feel like there is no other way to express yourself in the face of this kind of verdict. Time and time again, African-American men are killed by police and nobody is held accountable."
The events that led to Smith's killing in December, 2011, began with Stockley, who is white, watching Smith, who was black, going back and forth from a Church's Chicken to his car in the parking lot. Stockley and his partner parked their car behind Smith's, who responded by ramming the police car and others in the lot before driving away. After a three-minute police chase, Smith's car crashed. This is where the stories diverge.
Stockely says he approached Smith's car and saw the 24-year-old reaching for a gun. That's when he fired five times, killing him. His lawyers argued that he was acting in self-defense.
Prosecutors said Smith's killing amounted to premeditated murder. Stockley, they said, shot Smith four times before moving closer for a "kill shot." He then crawled into Smith's car, they said, and planted a gun. To prove this they pointed to DNA evidence. The .38-caliber revolver found in Smith's car after the shooting had Stockley's DNA on it, but not Smith's. And then there was the recording, made during the chase, of Stockley telling his partner, "We're killing this motherfucker, don't you know."
Judge Wilson wrote all of this off. The absence of DNA on the gun does not mean it was not Smith's, he wrote. Regarding Stockley's declaration to kill Smith, the judge said said, "People say all kinds of things in the heat of the moment or while in stressful situations."
Mayor Lyda Krewson said she was "appalled" after the verdict was announced.
"I am sobered by this outcome," she wrote in a statement. "Frustration, anger, hurt, pain, hope and love all intermingled. I encourage St. Louisans to show each other compassion, to recognize that we all have different experiences and backgrounds and that we all come to this with real feelings and experiences."
The not guilty verdict and subsequent protests were anticipated by some in downtown St. Louis. On Friday morning, some businesses boarded up their windows while barricades were erected around the courthouse and several schools called off class for the day. The police were also out in full force and did not waste much time making their first arrests.