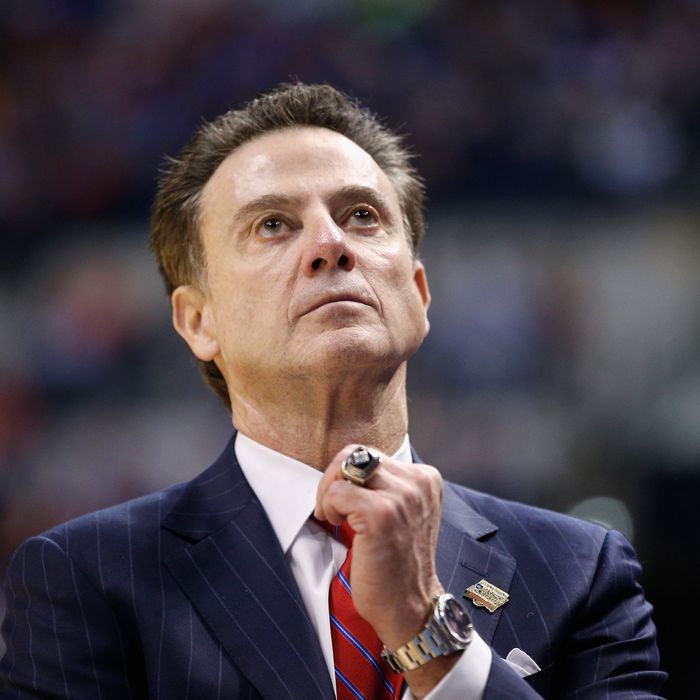 Pitino out.
Photo: Joe Robbins/Getty Images
The University of Louisville "effectively fired" head basketball coach Rick Pitino Wednesday, his lawyer told the Courier-Journal, the first major shoe to drop after the FBI announced a bombshell investigation Tuesday into the unscrupulous characters behind college hoops.
Pitino's coaching career at Louisville is over, but his contract, which stipulates that he be allowed "an opportunity to be heard," is preventing an outright dismissal, the university's interim president Greg Postel said Wednesday.
The Brooklyn native and former Knicks head coach leaves Louisville after 16 years, one national title, and a slew of embarrassing scandals. The most egregious occurred between 2010 and 2014 when a former assistant routinely paid women to strip for and have sex with players and recruits. Some of the women and players were underage.
Pitino survived that scandal by playing dumb, a tactic he would employ again on Tuesday after the FBI alleged that an Adidas executive conspired to pay a player's family $100,000 if he would commit to Louisville, which has an apparel contract with the company, and then sign with Adidas after going pro. Pitino has not been implicated in the scheme, but after news broke Tuesday there was a sense in Louisville that enough was enough.
"It's not going to prevent us from getting to where we want to get, but this is another stumbling block," Postel said Wednesday, referring to the school's attempts to scrub itself of the stain left by the previous scandal.
Pitino is the biggest name to go down in this still-developing investigation, but he's not the only one. The FBI on Tuesday arrested four assistant coaches from around the country, including former NBA player Chuck Person, who was subsequently suspended by Auburn University, where he is a coach. Person and three other coaches were hit with charges ranging from fraud to money-laundering. Their crimes were committed as part of a scheme that saw business advisers bribe coaches to push athletes toward those advisers once the players went pro.
"For these men, bribing coaches was a business investment," Joon H. Kim, acting U.S. attorney for the Southern District of New York, said Tuesday. "They knew corrupt coaches, in return for bribes, would pressure the players to use their services. They also knew that if and when those young players turned pro, that would mean big bucks for them."
The FBI's investigation has the potential to change the way college basketball operates, especially because it's just starting. "We have your playbook," New York FBI assistant director William Sweeney said, addressing those who operate in the black market of college basketball. "Our investigation is ongoing and we are conducting additional interviews as I speak."
As more schools are ensnared by this investigation, a more equitable future for college basketball could emerge, where major universities like Louisville, and the similarly implicated University of Arizona, have less of a stranglehold on the sport as they lose the ability to throw around cash. But it's not just the schools that are now on notice. So too are corrupt AAU coaches, self-interested financial advisers, and multinational apparel companies with a stake in all of it.
While the game has months of bad headlines ahead of it, if this is the end of what acting U.S. Attorney Kim called the "dark underbelly of college basketball," then it's a good thing. And if it leads the NCAA to try to stamp out opportunities for bribery by ending the farce of forced amateurism, then it's even better.