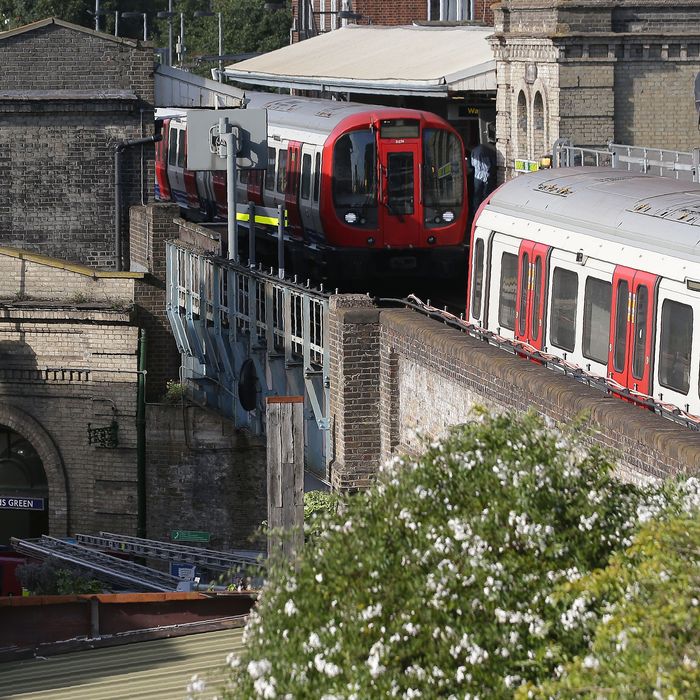 Emergency services personnel work at Parsons Green tube station on September 15, 2017.
Photo: DANIEL LEAL-OLIVAS/AFP/Getty Images
An explosion on a packed London Underground train on Friday morning left commuters scrambling and at least 22 people hurt from non-life-threatening injuries. Police called it was a "terrorist incident," and say that an improvised device that only partially exploded caused the blast.
The explosion occurred at 8:20 a.m. on a train leaving the Parsons Green station in Southwest London. Images circulating on social media show a small flame burning inside a plastic bucket with wires coming out of it.
Eyewitnesses described feeling a sudden blast of heat. "The train was packed, and I was down the other side of the carriage standing up, looking at my phone and then I heard a big boom and felt this heat on my face," hairdresser Natalie Belford, 42, told the New York Times. "I ran for my life, but there was no way out. The doors were full of people and the carriage was too packed to move down."
So far there are no reported fatalities. Most of those injured suffered from "flash burns," caused by sudden exposure to heat. A Metro reporter at the scene said several people appeared to be badly burned, and others were injured in a stampede on a stairwell inside the station. Per the BBC:
Emma Stevie, 27, who was on the train when the explosion happened, and said she was caught in a "human stampede" and crush on the station steps as people rushed away from the train.




"I wedged myself in next to a railing, I put myself in the foetal position," she said.




"There was a pregnant woman underneath me, and I was trying really hard not to crush her.




"I saw a poor little boy with a smashed-in head and other injuries. It was horrible.




"The injuries from the stampede seemed the worst. I'm outside now, there are women crying and people sitting on the floor."
No arrests have been made in the attack, and officials appealed to the public to submit any photos or videos from the scene that might help in the investigation. London mayor Sadiq Khan said a manhunt was "underway." It is not clear if the authorities have a specific suspect, or suspects, in mind.
The U.K. has experienced several deadly terror attacks this year, including a vehicle and knife attack near Parliament, a suicide bombing at an Ariana Grande concert in Manchester, a van and knife attack near London Bridge, and a van attack near a London mosque.
Prime Minister Theresa May has called a meeting of the anti-terror Cobra committee for Friday afternoon. "My thoughts are with those injured at Parsons Green and emergency services who are responding bravely to this terrorist incident," she said.
President Donald Trump used the news of a London terror attack Friday morning to promote his travel ban, saying it should be "far larger, tougher and more specific — but stupidly, that would not be politically correct!"
In a series of four tweets ostensibly pegged to the London incident, he blamed the terror attack on a "loser terrorist," saying "these are sick and demented people who were in the sights of Scotland Yard. Must be proactive!"
Metropolitan Police called Trump's tweets "pure speculation given that we don't know who was involved." Such speculation, a spokesman added, was "unhelpful."
Trump, at least publicly on Twitter, did not offer U.S. assistance in the investigation, or condolences to the victims of the attack, though he did take the opportunity to boast that his administration had done more to defeat ISIS than Obama had done in eight years.
This is a developing story. Please check back for updates.