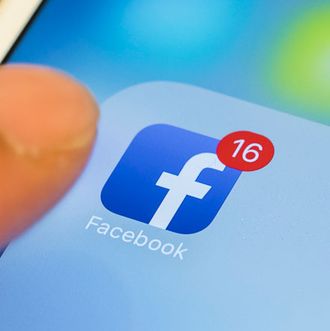 Photo: studioEAST/Getty Images
The unspoken agreement that undergirds the advertising industry is that metrics are, at best, a guideline. Did a million people really watch that TV show, or see that blog post? Probably not, but if we all pretend it's something close to that, we can keep paying our mortgages. The trouble is that the internet, and the increasingly powerful advertising duopoly of Facebook and Google, have always promised more accurate and precise metrics than traditional print or TV advertising. Only, Facebook has repeatedly miscalculated the audience metrics that companies rely on to make business decisions.
A new wrinkle in this ongoing cold war between platforms and their clients comes from a report by Pivotal Research. In it, it points out that Facebook claims to be able to reach more Americans between the ages of 18 and 34, a key demographic, than census data indicates exist. Facebook claims to reach 101 million 18–34-year-olds, as compared to the 2010 census's 76 million.
Facebook told Reuters that its metrics "are designed to estimate how many people in a given area are eligible to see an ad a business might run. They are not designed to match population or census estimates."
There are a few things that could explain the discrepancy. Maybe it's simple population growth, maybe Facebook users are lying about their age. Maybe the census is wrong. Facebook also uses location data, so maybe it's counting young tourists accessing Facebook from devices in the U.S. Maybe! Who's to say?
Facebook needs advertiser trust in order to sustain its business, but it's a balancing act. The people making up the tracking systems need to pretend to be objective about it, even as they're weighted to make Facebook seem as effective as possible.