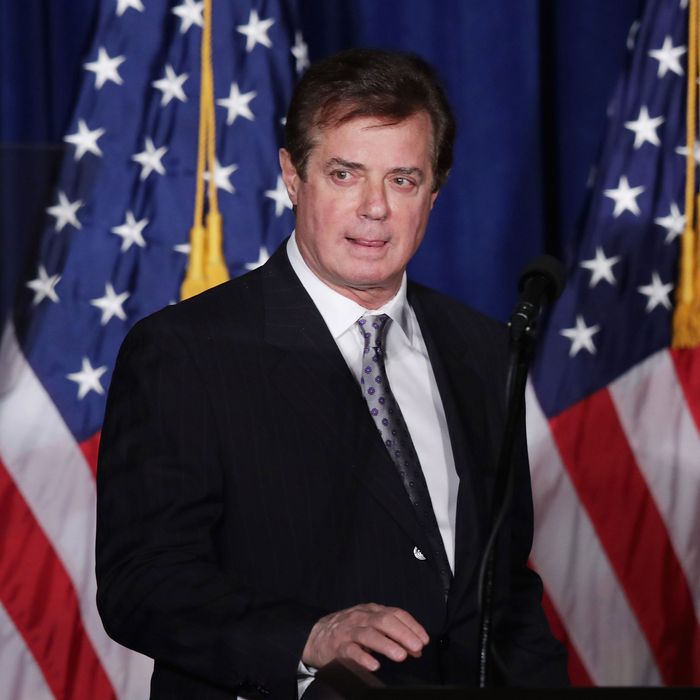 Paul Manafort was warned about an indictment, and somehow Trump supporters see good news.
Photo: Chip Somodevilla/Getty Images
For some time, former Trump campaign manager Paul Manafort and former national security adviser Michael Flynn have been vying for the undesirable title of Trump associate most likely to be taken down by the Russia probe. Manafort pulled ahead on Monday night with the release of two explosive reports that revealed he's been intermittently under federal surveillance since 2014, and special counsel Robert Mueller's prosecutors recently told him that they plan to indict him.
According to CNN, the FBI's investigation of Manafort dates back to at least 2014, long before Trump was even a candidate. They originally became interested in Manafort due to his consulting work on behalf of Viktor Yanukovych, the pro-Russia former Ukrainian president who's been accused of corruption.
The wiretap on Manafort had to be approved by the court established under the Foreign Intelligence Surveillance Act, meaning federal judges found that there was probable cause to believe Manafort was an agent of a foreign power. Sources say that surveillance was eventually discontinued owing to a lack of evidence (and Manafort recently registered as a foreign agent retroactively).
FISA warrants must be continually renewed, and Manafort was not under FBI surveillance when Donald Trump Jr. invited him to a meeting with several people connected to the Russian government in June 2016. But the FBI obtained a new FISA warrant that extended at least through early 2017 as part of its investigation into possible contacts between Trump officials and Russian operatives.
That gap could prove crucial as prosecutors and investigators under Mueller work to determine whether there's evidence of a crime in myriad connections that have come to light between suspected Russian government operatives and associates of Trump. Manafort has denied that he knowingly had contact with Russian agents.
It was previously reported that the FBI raided Manafort's Alexandria, Virginia, home in July, and a New York Times report offers some new details:
Paul J. Manafort was in bed early one morning in July when federal agents bearing a search warrant picked the lock on his front door and raided his Virginia home. They took binders stuffed with documents and copied his computer files, looking for evidence that Mr. Manafort, President Trump's former campaign chairman, set up secret offshore bank accounts. They even photographed the expensive suits in his closet.




The special counsel, Robert S. Mueller III, then followed the house search with a warning: His prosecutors told Mr. Manafort they planned to indict him, said two people close to the investigation.
"They seem to be pursuing this more aggressively, taking a much harder line, than you'd expect to see in a typical white collar case," Jimmy Gurulé, a Notre Dame law professor and former federal prosecutor, told the Times. "This is more consistent with how you'd go after an organized crime syndicate."
Apparently, in their probe of Manafort, federal agents might have scooped up some information on the "boss" as well. Manfort was being wiretapped during a period when he was known to be in communication with Trump, and it's possible that the president was picked up during the surveillance. Trump didn't seem that concerned, however, as he kept chatting with Manafort even after it was widely reported that he was the target of an FBI investigation.
The conversations between Manafort and Trump continued after the President took office, long after the FBI investigation into Manafort was publicly knwn, the sources told CNN. They went on until lawyers for the President and Manafort insisted that they stop, according to the sources.
Manafort has a residence in Trump Tower, but it's unclear if the FBI surveilled him there. Still, according to Trump supporters, the important takeaway from these reports isn't that the president's former campaign manager may have engaged in illegal activity, but that Trump was right when he claimed "Obama had my 'wires tapped' in Trump Tower just before the victory."
Of course, we still don't know if the FBI surveilled Trump Tower. Or if they were listening in the final days of the campaign. And apparently the target wasn't Trump. And Obama wouldn't have had anything to do with an independent FBI probe. But other than that, Trump has been completely vindicated.