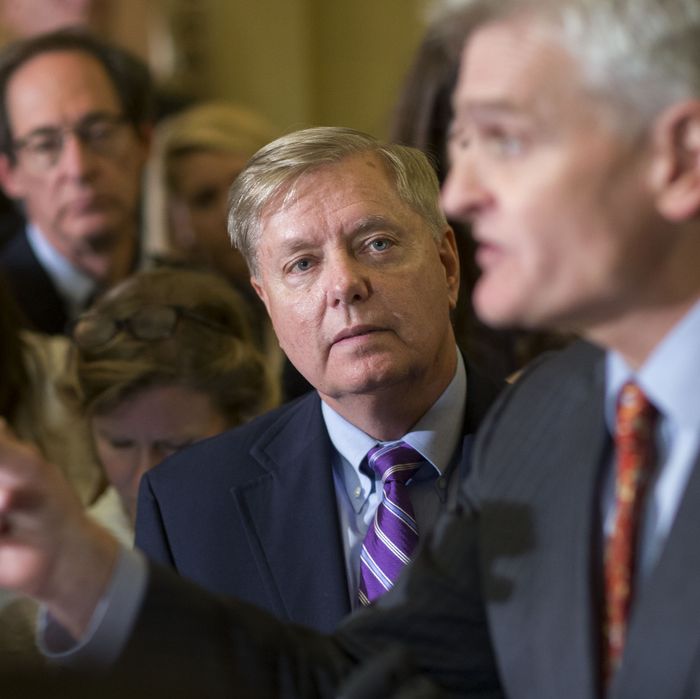 Lindsey Graham looks on as Bill Cassidy pitches their radical Obamacare-repeal bill on Tuesday.
Photo: Andrew Harrer/Bloomberg via Getty Images
In late July, Republicans suffered a humiliating defeat when Majority Leader Mitch McConnell's effort to ram an extremely unpopular Obamacare-repeal bill through the Senate in an absurdly short time frame fell three votes short of passage. Democrats breathed a huge sigh of relief and started musing about Medicaid for All. Meanwhile, cooler heads in the Senate made progress on a promising bipartisan fix for the mostly functional health-care system that's already in place.
But then, last week, Republican senators Lindsey Graham and Bill Cassidy announced one last last-ditch effort to repeal Obamacare. Their innovative proposal: Ram an even more radical health-care bill through the Senate, and give everyone far less warning.
The White House and most congressional Republicans quickly lined up behind the Graham-Cassidy bill, which converts federal Obamacare and Medicaid subsidies into underfunded block grants to the states, and gives states the "freedom" to roll back consumer protections. The legislation must pass by September 30 to avoid a Democratic filibuster.
On Tuesday the effort faced a potential setback, when many of the same forces that had killed previous Trumpcare efforts mobilized against the new bill. Grassroots groups are urging people to call their representatives to say they oppose the bill, and at least 16 health organizations have come out against it, including the American Medical Association, the American Heart Association, and the March of Dimes.
The biggest blow came from a bipartisan group of 11 governors who sent a letter to Senate leaders urging them to reject Graham-Cassidy and focus on the effort to fix Obamacare that Republicans had just abandoned. Most significantly, the group includes Alaska's Bill Walker, who might influence his state's senator, Lisa Murkowski, one of the three Republicans who killed the last Trumpcare push. On Tuesday afternoon, Murkowski said she would need to see a more detailed explanation of how the bill would affect her state, which has particularly high health-care costs.
"If it can be shown that Alaska is not going to be disadvantaged, you gain additional flexibility. Then I can go back to Alaskans, and I can say, 'Okay, let's walk through this together.' That's where it could be different," she said.
The nonpartisan Congressional Budget Office has already said that it won't be able to provide a full analysis by next week.
The letter was particularly embarrassing for two of the health bill's sponsors. Nevada senator Dean Heller is now officially at odds with Brian Sandoval, his state's popular Republican governor, but Heller has already defied Sandoval by voting for "skinny repeal" in July. The letter was also signed by John Bel Edwards, governor of Cassidy's home state of Louisiana. Edwards's opposition isn't surprising — he's a Democrat — but he did contribute to a Cassidy pile-on.
On Monday, Rebekah Gee, Lousiana's health secretary, sent Cassidy a letter saying, "The legislation you've introduced this past week gravely threatens health-care access and coverage for our state and its people." In his response, Cassidy suggesting that by raising concerns about his bill's deep cuts in federal health-care funding, Gee was advocating for penalizing poor families that can't afford health insurance.
Cassidy has made many dubious claims about his bill in recent days, and on Tuesday night Jimmy Kimmel devoted his monologue to calling Cassidy out on it. He said the senator "just lied right to my face" when he appeared on his show in May. During that appearance, Cassidy had called for legislation that "passed the Jimmy Kimmel test" by guaranteeing care for any child born with a preexisting condition, such as Kimmel's son.
"I don't know what happened to Bill Cassidy," Kimmel said. "But when he was on this publicity tour, he listed his demands for a health-care bill very clearly. These were his words: He said he wants coverage for all, no discrimination based on preexisting conditions, lower premiums for middle-class families, and no lifetime caps. Guess what? The new bill does none of those things."
When asked for a response, Cassidy's office released a disingenuous statement about his bill, which lets states revoke protections for preexisting conditions and would likely take coverage from tens of millions of people.
"We have a September 30 deadline on our promise. Let's finish the job," he said. "We must because there is a mother and father whose child will have insurance because of Graham-Cassidy-Heller-Johnson. There is someone whose preexisting condition will be addressed because of GCHJ."
Despite the objections of medical groups, elected officials, and late-night hosts, Republicans seem determined to forge ahead with their repeal effort. They touted a letter of support from 15 Republican governors — though that letter called for "adequately funded" block grants to the states, which Graham-Cassidy wouldn't actually provide. That letter was signed by Kentucky governor Matt Bevin, who may have some sway over Senator Rand Paul. He's been railing against Graham-Cassidy, but he took the same stance before voting for skinny repeal.
The White House has thrown its support behind the effort, too, with Vice-President Mike Pence attending the weekly Senate Republican policy luncheon to urge lawmakers to back it. Pence said Trump told him to try to find some Democratic votes too, but apparently the VP only went as far as making a phone call to Senator Joe Manchin, the most right-leaning Democrat. Manchin told Pence aides he couldn't support it, and no Democrats are expected to defect.
Democrats are mulling procedural moves to delay the vote past the September 30 deadline, and they may have been aided by Graham's gentlemanly ways: Despite the tight deadline, senators went home for Rosh Hashanah on Tuesday, and they aren't expected to be back in Washington until Monday evening (just in time for Tuesday's phony health-care hearing).
Graham, who is Baptist, said that despite his fervent desire to pass his (widely hated) health bill, he isn't interested in demanding that the Senate work during religious holidays. "I want to honor every religion's holiday, so if we have to break for the Jewish holiday, we have to break for the Jewish holiday," he said. "I don't want to get on the wrong side of God, but I am determined to do all I can as long as I can to repeal and replace Obamacare."