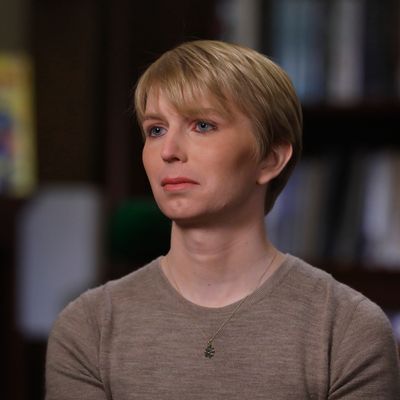 Chelsea Manning during a recent ABC News interview.
Photo: Heidi Gutman/ABC via Getty Images
Harvard University said it was rescinding Chelsea Manning's invitation to be a visiting fellow during the upcoming school year following a backlash over its decision to welcome the former military intelligence analyst who spent seven years in prison for leaking classified information.
Early on Friday morning, Douglas W. Elmendorf, the dean of the Harvard Kennedy School, released a statement in which he said it was a "mistake" to make Manning a visiting fellow, and accepted responsibility for the decision. Elmendorf explained that there are different grades of "fellow," depending on how long the speaker will be on campus.
He said Harvard "did not intend to honor her in any way or to endorse any of her words or deeds, as we do not honor or endorse any Fellow," but he now understands that other people see the title as an honorific. He continued:
Therefore, we are withdrawing the invitation to her to serve as a Visiting Fellow — and the perceived honor that it implies to some people — while maintaining the invitation for her to spend a day at the Kennedy School and speak in the Forum. I apologize to her and to the many concerned people from whom I have heard today for not recognizing upfront the full implications of our original invitation.
The move comes after former CIA acting director Michael Morell resigned as a senior fellow at Harvard over what he described as a decision "that honors a convicted felon and leaker of classified information" in a letter to Elmendorf.
"Ms. Manning was found guilty of 17 serious crimes, including six counts of espionage, for leaking hundreds of thousands of classified documents to Wikileaks, an entity that CIA Director Mike Pompeo says operates like an adversarial foreign intelligence service," Morell wrote.
Pompeo said he supported Morell's decision, and canceled his appearance at a Harvard forum on Thursday night. "While I have served my country as a soldier in the United States Army and will continue to defend Ms. Manning's right to offer a defense of why she chose this path, I believe it is shameful for Harvard to place its stamp of approval upon her treasonous actions," Pompeo wrote in a separate letter.
When the Kennedy school announced Manning's invitation earlier this week, it said Hillary Clinton campaign manager Robby Mook and former White House press secretary Sean Spicer would also be visiting fellows. Previously announced visiting fellows include former Trump campaign manager Corey Lewandowski and Morning Joe hosts Joe Scarborough and Mika Brzezinski.
On Wednesday, Manning had responded to critics by suggesting that Spicer shouldn't be a visiting fellow, and she responded to Harvard's announcement by saying she is "honored" to be the first transgender woman disinvited from holding the title.