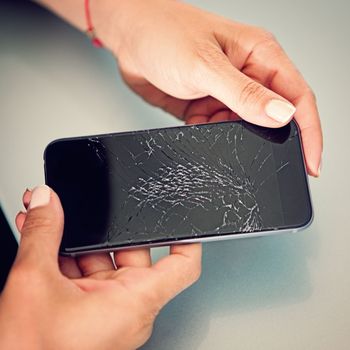 Talk about some Deep Pixels.
Photo: Praetorianphoto/Getty Images/iStockphoto
An iPhone that wouldn't shatter after being dropped? When Apple said as much while introducing the new, glass-backed iPhone 8 two weeks ago, it sounded too good to be true. And, it turns out it was.
According to a recent study conducted by SquareTrade Labs, the latest generation of iPhones are anything but shatter-resistant. When dropped facedown, the screens of both the iPhone 8 and 8 Plus received so much damage, they were rendered nearly unusable. (Meanwhile, Samsung's Galaxy Note 8 survived the same drop with only a few hairline cracks.) And thanks to the 8 and 8 Plus's new all-glass design, dropping them on their backs wasn't any better. Both models lost serious chunks of glass from the fall, with the 8 Plus's back shattering completely.
"Like the Galaxy S8 and Note 8, our tests show that the all-glass iPhone 8 and 8 Plus break on the first drop on all sides," said Jason Siciliano, vice-president and global creative director at SquareTrade. "Wireless charging is the future, no doubt. But it seems that Apple and Samsung have made a choice — to sacrifice durability in the name of innovation."