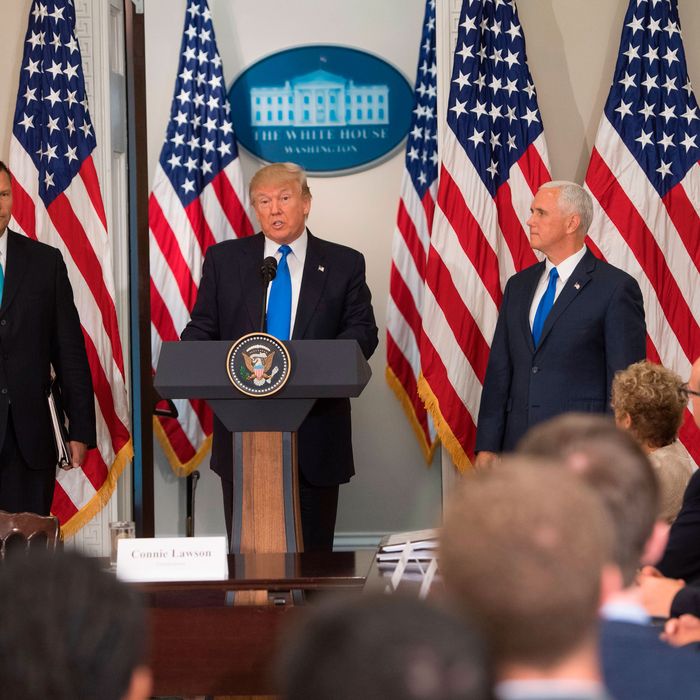 The voter fraud (fraud) commission.
Photo: Saul Loeb/AFP/Getty Images
In late February, the Heritage Foundation learned something "very disturbing" about President Trump's upcoming "voter-fraud commission" — the White House was planning to let Democrats serve on it.
"There isn't a single Democratic official who will do anything other than obstruct any investigation of voter fraud and issue constant public announcements criticizing the commission," a staffer (whose name has been redacted) at the right-wing think tank told Attorney General Jeff Sessions, in an email obtained Tuesday by the Campaign Legal Center through a Freedom of Information Act request. "That decision alone shows how little the White House understands about this issue."
The email went on to warn Sessions that, "If they are picking mainstream Republican officials and/or academics to man this commission then it will be an abject failure because there aren't any that know anything about this or who have paid any attention to this issue over the years."
Instead of appointing members of the opposition party, normal members of the president's party, or people who have studied voting issues in institutions that aren't funded by the conservative movement, this Heritage official suggested the White House staff the panel entirely with "real experts on the conservative side of the issue" like Kansas secretary of State Kris Kobach. Specifically, the think-tank staffer suggested that they appoint the real experts who work at the Heritage Foundation.
Ultimately, Trump decided to name two Democratic secretaries of State to his "Bipartisan Presidential Commission on Election Integrity," along with an Obama-appointed commissioner of the Election Assistance Commission.
But he also put Kobach in charge of the commission, and eventually asked Heritage's Hans von Spakovsky — one of fathers of the modern voter-fraud myth — to join his fellow "real expert" on the panel.
The idea that the White House should have appointed a uniformly far-right Republican panel to investigate the integrity of American elections is pretty wild. Trump's commission may be an unsubtle attempt to suppress Democratic votes — but even this White House doesn't have quite enough contempt for democratic norms to dispense with the pretense of nonpartisanship. The fact that Heritage thinks it would have been perfectly appropriate for the president to let a panel composed entirely of conservative Republicans dictate voting reforms illustrates how instinctively authoritarian some corners of the conservative movement have become.
Still, you can't blame conservatives for worrying that the White House couldn't afford to pick a couple Democrats — or academic experts — even as window dressing.
After all, if a person does not accept that mass voter fraud is a reality in the United States, it would pretty difficult to marshal evidence to convince her otherwise: A five-year investigation into voter fraud by the George W. Bush administration turned up exactly 26 instances of the phenomenon; a November 2014 study turned up virtually no evidence of in-person voter fraud; and research conducted by the Brennan Center for Justice that same year uncovered 31 credible allegations of voter fraud for every 1 billion votes cast — a fraction of the number of legal citizens who were denied the right to vote for lacking proper identification during the same time period.
In recent days, the danger that people who aren't far-right Republicans pose to the president's voter-fraud commission became clear. Last week, Kobach announced that his commission had discovered evidence that a real U.S. Senate election had been swung by thousands of illegal votes in New Hampshire. Within 24 hours, the media revealed that Kobach had, apparently (willfully?), misunderstood the Granite State's laws regarding the voting rights of college students.
On Tuesday, at the commission's second meeting in (of all places) New Hampshire, Kobach defended his baseless claim, and was roundly rebuked by the committee's Democrats. As NBC News reports:
"In that column, I struggled with … what verb to use," Kobach said, noting that he settled on the word "appears" to describe the possible fraud but allowed that he erred in trying to condense a "complex legal issue" into the column.




But experts said that is no evidence of voter fraud. State law allows people with non-New Hampshire driver's licenses to live in the state and vote legally. Gardner, a Democrat, pushed back on Kobach's claims, saying, "what you wrote is that the question of whether our elections that we have recorded is real and valid. And it is real and valid."




Gardner pointed to the comments made by the panel's chair, Vice President Mike Pence, at the first meeting, who said the panel would not work with any preconceived notions. Pence did not attend the second meeting.




"That is something that we all need to stay focused on," Gardner said.
Perhaps they should have stuck to "real experts on the conservative side of the issue."
Update: In a statement to New York, Hans von Spakovsky says that he was not the individual who allegedly emailed the attorney general, and that he has full confidence in his Democratic peers on the commission:
I did not send an email to the attorney general.  I have never had any discussions by email or otherwise with General Sessions about the election integrity commission.  I did send a private email in February to private individuals who were not in the administration to express my personal concerns about the efficacy of the President's Advisory Commission on Election Integrity months before it was organized or any of its members were selected. I did not send it to General Sessions and was unaware that it had been forwarded to him.




After my own participation as a member, I'm confident that all the members of the Commission are committed to uncovering the truth about election integrity and the other issues present in our election system and developing recommendations to safeguard and improve the voting process. The informative and comprehensive hearing we just held in New Hampshire organized and hosted by Bill Gardner (D), the long-time secretary of state, is evidence of the good work the Commission is already doing
The Heritage Foundation, for its part, insists that it is a "scrupulously nonpartisan" organization. The foundation's spokesperson Sarah Mills writes in a statement:
The Heritage Foundation is scrupulously nonpartisan. Hans von Spakovsky is a former member of the Federal Election Commission and has managed our Election Law Reform Initiative for many years. He brings a wealth of knowledge and insight to the discussion of voter fraud, and holds strong views on the topic. The views expressed in the email are his own.