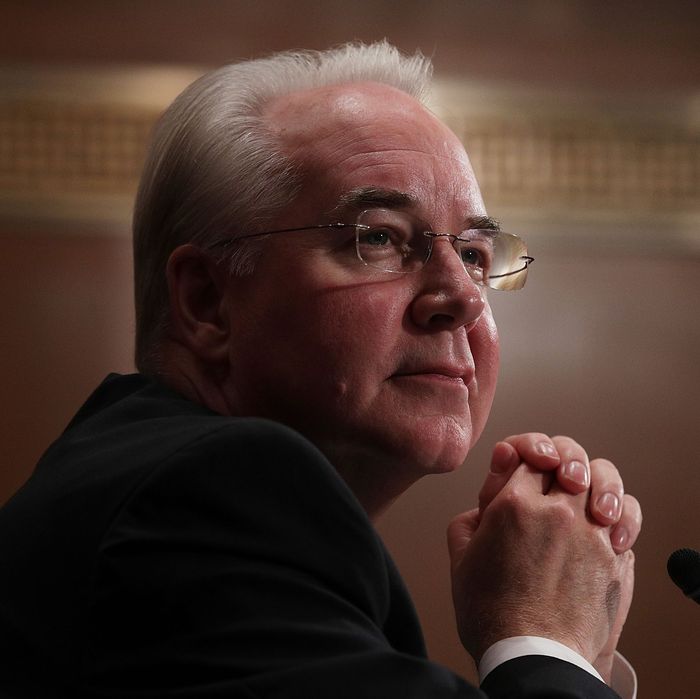 Tom "Let Them Fly Coach" Price.
Photo: Alex Wong/Getty Images
In a world where president Trump wasn't churning out a new scandal every day or two, Health and Human Services Secretary Tom Price's penchant for traveling by private jet would likely be a career-ending scandal. But Price doesn't seem that concerned about Politico's recent report that he chartered five private flights last week. Even after he knew reporters were looking into his travel habits, Price took another private flight to Oklahoma.
In its follow-up story on Thursday, Politico reported that Price has taken 24 flights on private charter planes since early May, which cost taxpayers more than $300,000. The last was on Tuesday, when he took a charter jet to meet with Native American tribes in Oklahoma and tour health facilities by car. He did make one small concession:
… HHS initially explored flying him by charter around the state, two people with knowledge of Price's travels said. "There was a push from political [staff] at HHS to fly him and not drive him to these small communities," said one of the people.
HHS staff shut down a press conference on Wednesday when reporters asked about the cost of Price's travel to taxpayers. But they did release a statement explaining why Price has made unprecedented use of private flights.
HHS spokesperson Charmaine Yoest said Price has flown commercial during his tenure as secretary, but "He has used charter aircraft for official business in order to accommodate his demanding schedule. The week of September 13 was one of those times, as the secretary was directing the recovery effort for Irma, which had just devastated Florida, while simultaneously directing the ongoing recovery for Hurricane Harvey."
That explanation doesn't make sense, since, according to Politico, at least 17 of the flights took place before Harvey hit Texas. But that's not the best part of Yoest's response. She added: "Some believe the HHS Secretary should be Washington-focused. Dr. Price is focused on hearing from Americans across the country."
It's true that many of Price's trips have involved events related to the opioid epidemic, which he's labeled one of this top priorities as HHS secretary (though 700 addiction experts sent a letter asking Price to stop making unscientific claims about addiction treatment, and President Trump still hasn't declared the opioid crisis a national emergency, more than a month after saying he would). However, there are ways for Price to talk with average Americans across the country without dropping hundreds of thousands of taxpayer dollars on private planes. As Politico reports:
HHS officials have said Price uses private jets only when commercial travel is not feasible. But many of the flights are between large cities with frequent, low-cost airline traffic, such as a trip from Washington to Nashville that the secretary took on June 6 to make a morning event at a medication distributor and an afternoon speech. There are four regular nonstop flights that leave Washington-area airports between 6:59 a.m. and 8:50 a.m. and arrive in Nashville by 9:46 a.m. CT. Sample round-trip fares for those flights were as low as $202, when booked in advance on Orbitz.com. Price's charter, according to HHS' contract with Classic Air Charter, cost $17,760.
If no one in HHS can figure out how to operate orbitz.com, one of Price's fellow Cabinet members has another solution. On Thursday, an Education Department spokesperson said Secretary Betsy DeVos, who is a billionaire, travels around the country "on personally-owned aircraft" at zero cost to taxpayers.