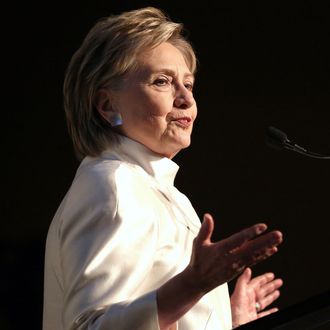 Hillary Clinton.
Photo: Monica Schipper/Getty Images
Hillary Clinton — maybe you've heard of her? — has a new book coming out in mid-September. Titled What Happened, the book chronicles, well, what happened to lead Clinton to lose the 2016 presidential election. While the full book isn't available until September 12, a page from the forthcoming memoir leaked online earlier this week. In it, Clinton publishes, verbatim, a viral Facebook post which uses ponies to explain the fight between Clinton and Bernie Sanders for the Democratic nomination.
The post itself originated on Facebook in March of 2016 and was written by one Helen Stickler. You can read it here, but it's essentially identical to the version in Clinton's book. "US Uncut Headline: Congressional Inquiry Into Clinton's Pony Lies. Twitter trending: #ponygate" were the two lines edited out for What Happened.
Stickler has since posted an update to her post after learning it was included in Clinton's book. "I am amazed to find out that Hillary included my #ponygate meme in her upcoming book," Stickler writes. "I gave it to her in a private note in May 2016, but she may have seen it around virally. So proud, for myself and the other ladies (and one gent) who contributed to the original thread that it came from!" (In the book, Clinton writes that someone "sent" her the Facebook post.) Congrats ladies (and one gent)! Hillary didn't get to be president, but at least she'll always have this post.