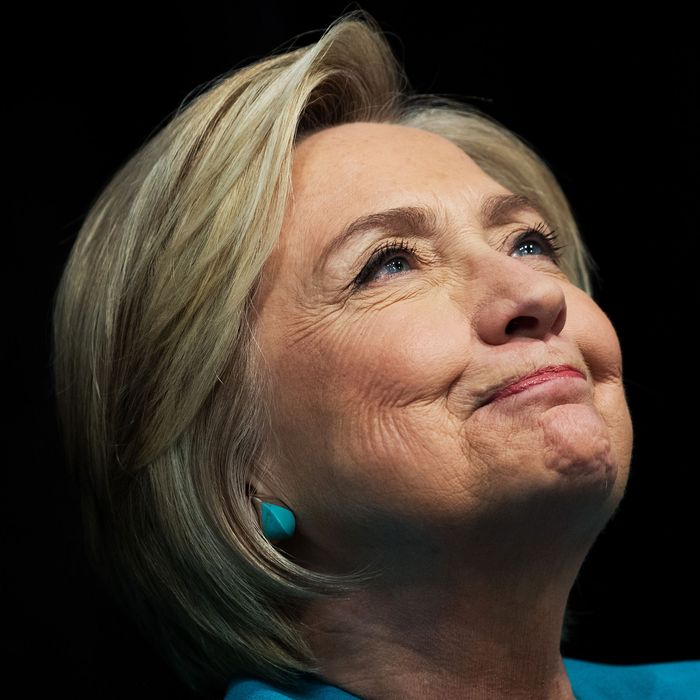 She just won't face reality.
Photo: Drew Angerer/Getty Images
Hillary Clinton's book What Happened, a highly anticipated postmortem of the 2016 election, was released on Tuesday. But if Clinton detractors were hoping the candidate would finally own up to her failure in defeating President Trump, they'll be sorely disappointed. Sure, Clinton appears to say the right things. But, as every politics watcher knows, the reason the media and voters can't trust her is that she refuses to be truly honest or self-reflective. Witness these classic attempts to fool the reader with counterfeit contrition — words obviously ghostwritten by an army of highly paid consultants and Goldman Sachs publicists. They didn't fool us, and they won't fool you.
p. 18: "Still, every time I hugged another sobbing friend — or one stoically blinking back tears, which was almost worse — I had to fight back a wave of sadness that threatened to swallow me whole. At every step, I felt that I had let everyone down."
p. 41: "Until you experience it, it's hard to comprehend the ache in your gut when you see things going wrong and can't figure out how to fix them; the sharp blow when the results finally come in; the disappointment written on the faces of your friends and supporters."
p. 46: "This isn't easy or fun. My mistakes burn me up inside."
p. 72: "The controversy over my emails quickly cast a shadow over our efforts and threw us into a defensive crouch from which we never fully recovered."
p. 120: "A lot of people said they just didn't like me."
p. 124: "I've tried to adjust. After hearing repeatedly that some people didn't like my voice, I enlisted the help of a linguistic expert."
p. 386: "I blamed myself. My worst fears about my limitations as a candidate had come true."
p. 425: "None of the factors I've discussed here lessen the responsibility I feel or the aching sense that I let everyone down."
p. 462: "We had never met before this moment, but in so many ways, I felt like I had been fighting for her and millions like her my entire career. And I had let them all down."