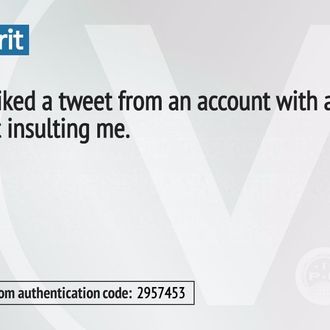 Mock Verrit Insulting Me.
Did you like a tweet from an account with a mock Verrit insulting former house-music DJ and Hillary Clinton digital strategist Peter Daou? Or do you have no idea what 50 percent of the preceding sentence even means? Have no fear, because I'm a Professional Meme Blogger™, and I'll explain this one for you in a jiffy.
To start, you need to know that Peter Daou — known best as Hillary Clinton's fiercest and wordiest defender on Twitter — recently founded a media start-up called Verrit, an intriguingly weird website that consists of quotes and facts that can be "verified" (on the same website) by the use of "identification" codes. Daou has been roundly and lovingly mocked on Twitter for the website all week, and responded in kind, but the height of his Twitter week came when he tweeted cryptically at New York Times writer Sopan Deb:
Generally, stuff like this goes unnoticed in the crazy, dog-eat-dog world of Twitter, but this time, Deb actually chose to respond. (Probably from utter confusion at the CEO's hysterical message.)
Turns out, Deb hadn't tweeted anything about Daou whatsoever. What he did do (at least in the eyes of Trump-level-sensitive Daou) was much worse:
And there you have it, folks. A new meme was born. Please alert your local religious organizations to schedule a christening, this one isn't going away anytime soon.