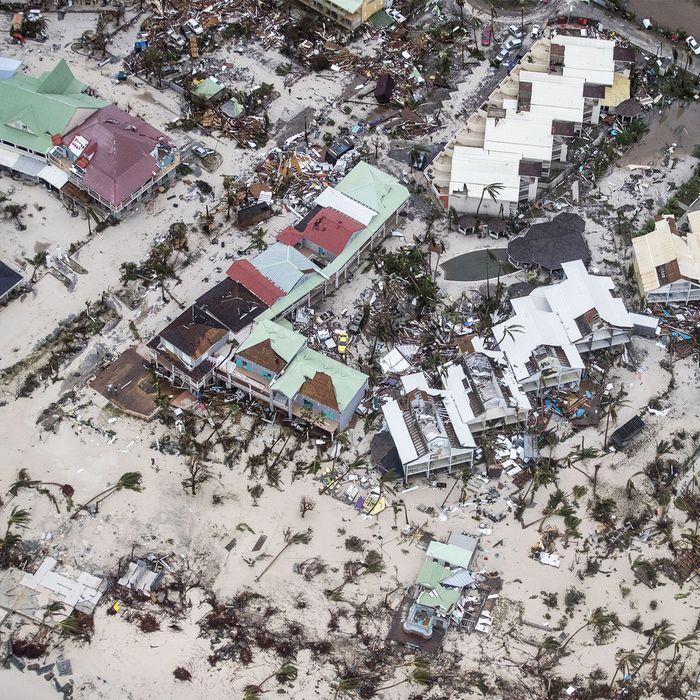 St. Martin, after Irma.
Photo: Gerben Van Es/AFP/Getty Images
Hurricane Irma is now spinning past the Dominican Republic and Haiti. The storm's center grazed Hispaniola's northern coast with strong winds and pounding rain as it heads toward Turks and Caicos and the Bahamas. Southern Florida is next in its sights.
Irma remains a ferocious category 5 storm, with winds of 175 miles per hour. The most powerful hurricane ever to form in this region of the Atlantic Ocean, and the first to maintain 185-per-hour winds for more than 24 hours, has ravaged some of the tiny islands in the northern Caribbean and killed at least 12 people so far. It made landfall Wednesday in Barbuda, razing or damaging at least 90 percent of the island's structures. Prime Minister Gaston Browne said at least 50 percent of Barbuda's population of about 1,600 was now homeless. "Barbuda now is literally rubble," Browne said.
The other Leeward Islands in Irma's path are surveying the damage after Irma's departure. At least one person died on the British territory of Anguilla, which suffered "severe and in some places critical" damage, according to the British government. The United Kingdom is dispatching humanitarian relief and a naval ship, though some in Anguilla have been critical of the British government's response to the storm. "Homes have been destroyed, schools and the only hospital badly damaged, and already one death is being reported, and more is to come as there are two more hurricanes scheduled to hit Anguilla in the next few days," a former U.K. representative for Anguilla told the Guardian. "Anguillans are all British nationals, as British as the Falklands or Gibraltar."
Irma pounded Saint Martin and St. Barts on its march through the Caribbean. French President Emmanuel Macron called the storm "harsh and cruel." Across Saint Martin, eight people died and at least 21 were injured. Both French and Dutch authorities are sending troops and racing to deliver aid to their respective sides of the island. "The situation in Saint Martin and St. Barts is dramatic — there is no drinking water, electricity, public buildings are unusable, houses have been destroyed," Guadeloupe prefect Eric Maire told France 24. "We estimate that some 60, 70 percent of the houses have been destroyed in Saint Martin."
The storm also slammed the British Virgin Islands, with the largest island, Tortola, suffering extensive damage.
At least three people died on St. Thomas and St. John as the U.S. Virgin Islands got knocked around by Irma. President Donald Trump had declared a state of emergency on the U.S. Virgin Islands ahead of landfall, and Health and Human Services Secretary Tom Price had issued a public-health emergency on Wednesday. As Irma pinwheeled through, roofs were ripped away by wind and floodwaters rose on St. Thomas and St. John. According to the St. Thomas Source, rising waters forced hospital staff at Schneider Regional Medical Center Hospital to relocate patients to the top floors, and floods inundated two emergency shelters. Much of the island remains without power, and communication is spotty.
Irma spared largely spared Puerto Rico, passing to the north of the island late Wednesday. About 70 percent of the island's residents — about 1 million people — are without power, and about 50,000 lack water. Puerto Rico saw downed trees and flooding. Worries still persisted about damage on Culebra, one of Puerto Rico's islands to the north, a popular tourist attraction, that saw 100 mile per hour winds. Still, it seemed as if the territory avoided a crippling blow. "We would like to start out thanking the Almighty," Puerto Rico governor Ricardo Rosselló said Thursday. "Our prayers were answered."
Dominican Republic and Haiti
Irma is moving past Hispaniola, where the northern shores of the Dominican Republic were most at risk of being walloped by the hurricane with potential storm surges up to five feet. El Nacional reported heavy wind gusts and downpours in the Thursday-morning hours. The Hotel de Punta Cana was set up with 600 shelter beds, but Joel Santos, the head of the island's tourism and hotel association, said that, so far, there didn't appear to be any significant damage to major hotels.
Turks and Caicos and the Bahamas are bracing for Irma's next punch, which is underway as of Thursday evening. Blinding winds and rain pummeled the island as the storm spiraled toward the British territory:
The National Hurricane Center warns of "dangerous" storm surges between 15 and 20 feet in Turks and Caicos and southeastern and central Bahamas.
Bahamas prime minister Hubert Minnis has ordered mandatory evacuations, which are underway in six of the chain's southern islands. Residents of those islands will be flown to Nassau, in what will be the largest-scale evacuation in the island's history.
Irma is expected to creep north-northwest, raking Cuba and potentially meeting the Florida coast Saturday or Sunday. A hurricane and storm-surge watch is already in effect for southern Florida and the Keys, parts of which could see tropical storm conditions as early as Friday. (For more about Florida's prep, check out Daily Intelligencer's post here.)
And another threat looms as the islands in Hurricane Irma's wake begin to survey the destruction. Jose, a tropical system east of the Leeward Islands, has strengthened to a category 3 hurricane, with sustained winds of at least 120 miles per hour. Jose is churning west-northwest, following in Irma's wake. A hurricane watch is now back in effect in Antigua and Barbuda, and a tropical-storm watch is in effect for Anguilla, Monserrat, and a handful of other islands that Irma battered just one day ago.
This post has been updated throughout.