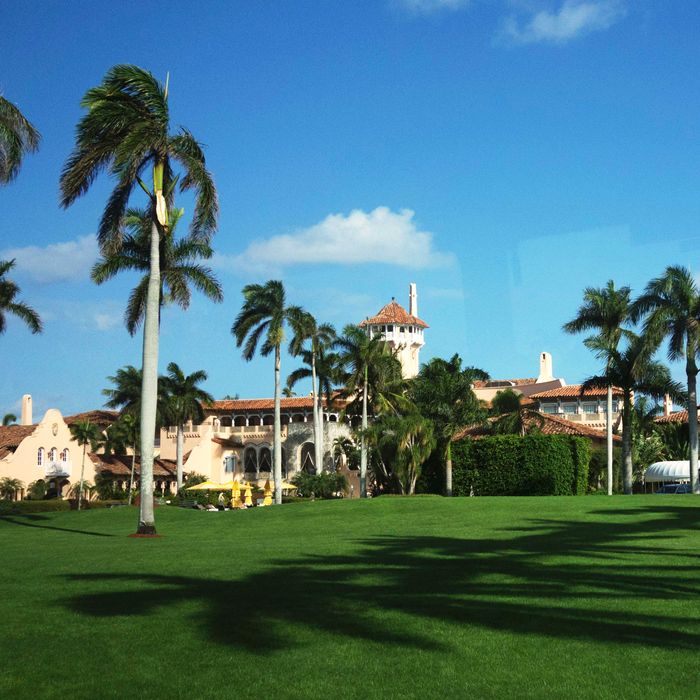 The Mar-a-Lago Club.
Photo: Don Emmert/AFP/Getty Images
With Hurricane Irma barreling toward South Florida and expected to make landfall early Sunday morning, the Trump Organization has closed its properties in the area, including the Mar-a-Lago Club in Palm Beach, where President Trump spent so many weekends last winter.
The company also closed the Trump International Golf Club in Palm Beach and Trump National Golf Club in Jupiter, a spokeswoman said Friday. Its fourth South Florida property, the Trump Doral outside of Miami, is still open but encouraging guests with reservations to change their plans. "Our teams at our four properties in Florida are taking all of the proper precautions and are following local and Florida state advisories very closely to help ensure that everyone is kept safe and secure," she said.
On Friday, officials in Palm Beach County ordered 125,000 residents to evacuate from low-lying areas near Lake Okeechobee, areas along the Intracoastal Waterway, and the barrier islands just off the coast. Trump's resort sits one of those islands, the 14-mile-long, half-mile-wide, ultraritzy Palm Beach. All residents have been ordered to leave Palm Beach by 5 p.m. Friday.
Trump on Friday encouraged people in the evacuation zones to get out.
The members-only Mar-a-Lago did not have many people to evacuate. Closed during the summer, the resort will have only a small number of staff on hand until it ramps back up in a couple months.
This will not be Mar-a-Lago's first hurricane. The property, which was built in 1927, has weathered plenty of previous storms. The last time the resort was hit by a hurricane was in 2005, when Wilma swept through South Florida with triple-digit winds.
The AP recently looked back at that storm and found little evidence that it did much damage to Mar-a-Lago. Anthony Senecal, Trump's former butler, said the resort survived the storm unscathed, save for a few detached roof panels. Other officials and members told the AP the same thing. And yet, Trump received a $17 million insurance payment for damages in 2005.
"We continue to spend the money because we continue to suffer the ravages of that hurricane," Trump said in a 2007 deposition, admitting that he couldn't remember which hurricane caused the damage. "We're continuously spending money. It really beat up Mar-a-Lago very badly." He also admitted to pocketing some of the insurance payout.
Despite their speeds, Irma's winds don't appear to be much of a threat to Mar-a-Lago. Last year, Senecal told the AP that the building, with its meter-thick walls anchored by steel and concrete beams, is "the safest place in the world for a hurricane." He added, "That house ain't going nowhere."
The hurricane's storm surge may do some damage though. Irma could send as much as ten feet of water onto the Mar-a-Lago property, which would likely cause water damage to some of its buildings. If it creeps up much higher than that, then the damage could be far greater. That's when the waters will begin to threaten priceless items, such as "The Visionary," a portrait of Trump once described by Playboy as showing him with "skin glowing like the top floors of Trump Tower at sunset."