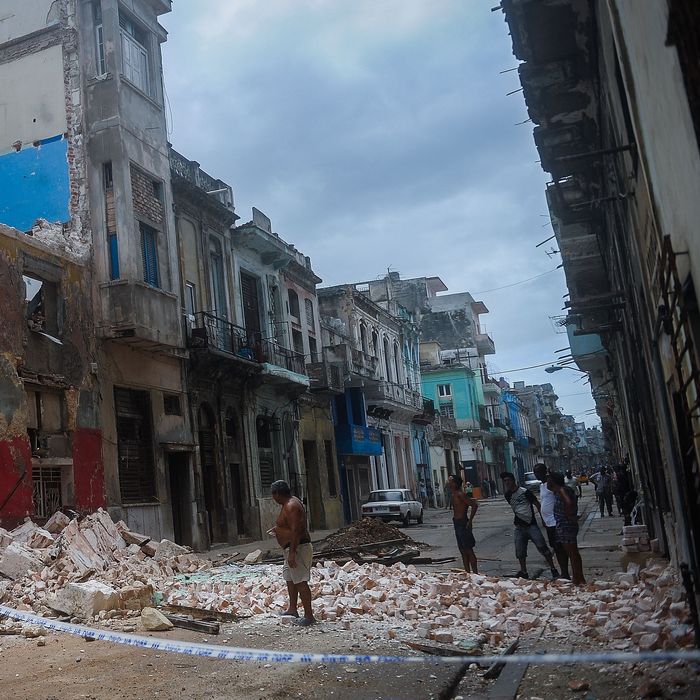 Havana in the aftermath of Irma.
Photo: YAMIL LAGE/AFP/Getty Images
After devastating some of the northern Leeward Islands, and before making landfall in Florida on Sunday morning, Hurricane Irma skirted the north coast of Cuba, ripping the roofs off houses, causing massive power outages, and doing extensive damage to cities that make up an important part of Cuba's key tourism industry.
Cuba's meteorological agency reported that Irma struck the country's Sabana-Camagüey Archipelago on the country's north-central coast, with winds so strong they broke measurement instruments. Intense rain pummeled the area, and waves of more than 20 feet rolled onshore. According to state-run media, Irma was the first Category 5 hurricane to hit the area in 85 years. Camagüey, Cuba's third-largest city with a population of about 300,000, is nearby.
The small town of Caibarién, popular with tourists, was battered by winds of up to 130 mph.
More than 5,000 tourists were evacuated from the coast, which is dotted with government-constructed resorts. Utility poles and trees were down across the region, and The Guardian reports that authorities in the city of Santa Clara said 39 buildings had collapsed.
Cuba's military regime is known for its efficient and extensive disaster preparations. Despite the widespread flooding and damage, there had been no deaths reported as of Sunday morning, though the country was still in the early stages of taking stock of the destruction.
As the storm bore down on the island nation, soldiers swept the country's northern coast and facilitated evacuations to schools, government facilities, and even caves, though many stayed behind.
On Saturday morning, the storm glanced Havana before turning northward toward the Florida Keys. Video showed water breaching the city's famous Malecón seawall.
Authorities warned that flooding in the capital would persist into Monday.