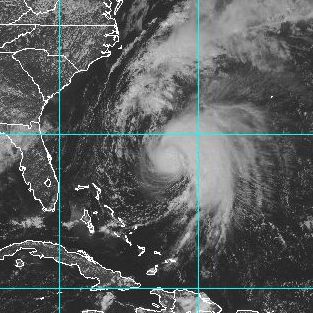 Satellite image of Hurricane Jose and, to the far southeast, Tropical Depression 15, as of Saturday.
Photo: NOAA
Hurricane Jose, a Category 1 storm, may begin affecting the East Coast as far south as North Carolina within a few days. Jose was upgraded from a tropical storm on Friday after the U.S. Air Force's Hurricane Hunters measured 75 m.p.h. winds; the hurricane has been continuing to strengthen and organize, according to the Weather Channel. The Eastern Seaboard may begin experiencing dangerous surf and rip currents from the storm this weekend, and those impacts are already being felt in the Bahamas, Bermuda, and Puerto Rico. Storm-path models continue to predict that Jose, which could gain additional strength after moving over warmer waters to the northwest, will not make landfall in the Bahamas or on the East Coast. However, direct impact on the mainland U.S. remains within the storm's "cone of uncertainty."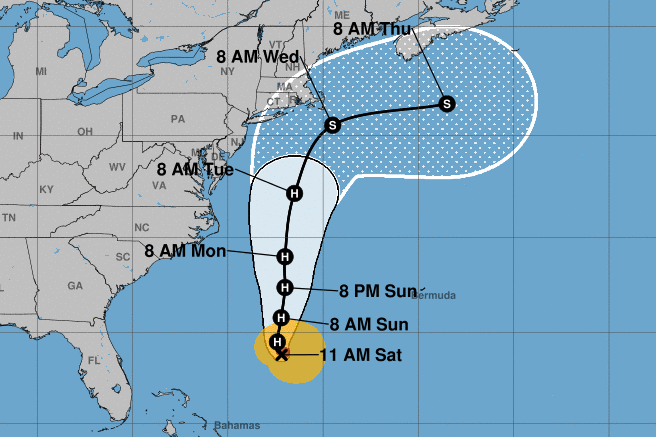 Jose seems likely to remain well offshore of the mid-Atlantic states, but Long Island and coastal New England could end up in the storm's path if it eventually heads north. The region might be hit by the storm's western edge around the middle of next week — though, the storm's intensity may have significantly weakened by that point.
It's also possible that the high-pressure system currently preventing the storm from moving out to sea will shift and finally usher Jose away from land.
In the meantime, another troubling storm is brewing east of the Lesser Antilles, which may threaten the same islands in the eastern Caribbean that Irma devastated less than two weeks ago. As the Capital Weather Gang's Greg Porter explains, Tropical Storm Maria seems to be intensifying and may follow a track similar to Irma, fed by the same weather conditions that made Irma so powerful. A tropical-storm watch has already been issued for the Windward Islands (including Barbados, St. Lucia, Martinique, Dominica, and Guadeloupe). It remains possible that islands to the north — including already devastated Barbuda and St. Martin — and the Eastern Seaboard could face a second major hurricane next week. On Saturday evening, after Maria got its name, a hurricane watch was issued for Barbuda, Antigua, St. Kitts, Nevis, and Montserrat.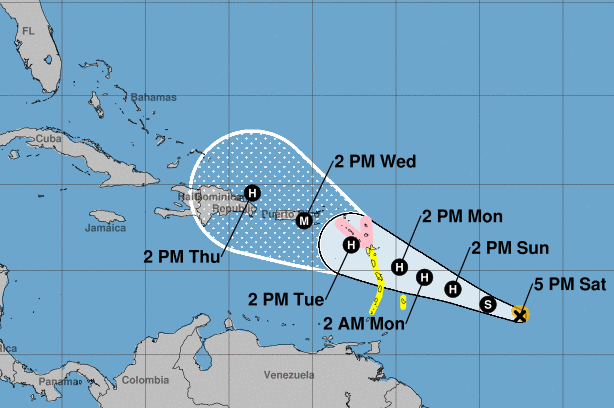 In addition to Tropical Storm Lee, which just formed in the tropical Atlantic, but is not expected to be a threat, Maria is the 13th named Atlantic storm of the year. That makes 2017 only the seventh year on record that 13 storms have been named before September 16.
This post has been updated to reflect the naming of Tropical Storm Maria and its updated forecast.