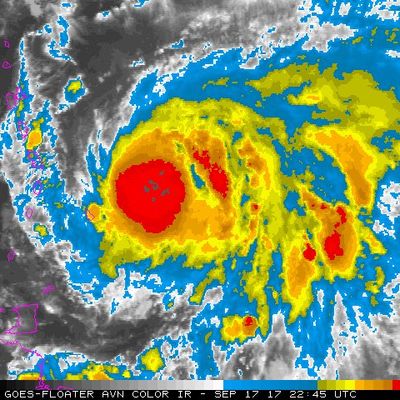 Numerous Caribbean islands, including some of the ones that sustained catastrophic damage from Hurricane Irma two weeks ago, are now in the path of 2017's newest hurricane, Maria, which was upgraded to a Category 1 storm on Sunday. The National Hurricane Center's latest forecast indicates that Maria will likely take a very similar path to the one that Irma took, strengthening as it goes.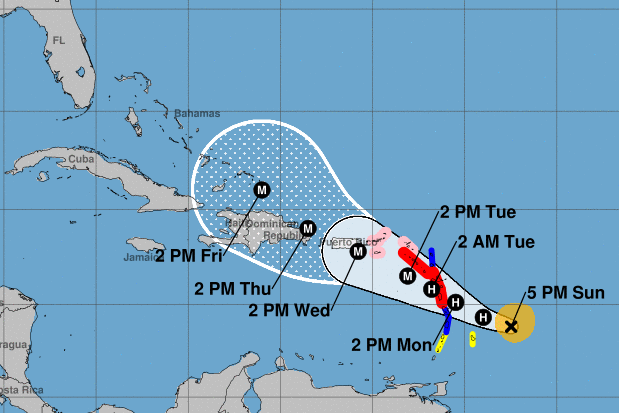 Should Maria stay on track and continue to organize and intensify, numerous islands, including already devastated ones like St. Martin and the U.S. Virgin Islands, could face another major hurricane as early as Monday night or Tuesday, followed by Puerto Rico as early as Wednesday.
If Maria were to line up to hit the U.S. mainland, that would probably happen around next weekend, but its eventual path will largely depend on what happens with Hurricane Jose.
Jose, which had looked like it might threaten the U.S. mainland, now seems likely to stay out mostly over the Atlantic as it moves north — though it may still bring tropical-storm conditions, along with coastal flooding, to some of the Northeast coast early this week. Tropical-storm watches have been issued from Delaware to Cape Cod, with those potential effects starting to hit by Tuesday.
And Jose may eventually bring heavy rain and extended coastal flooding to the Jersey Shore, Long Island, and eastern New England.