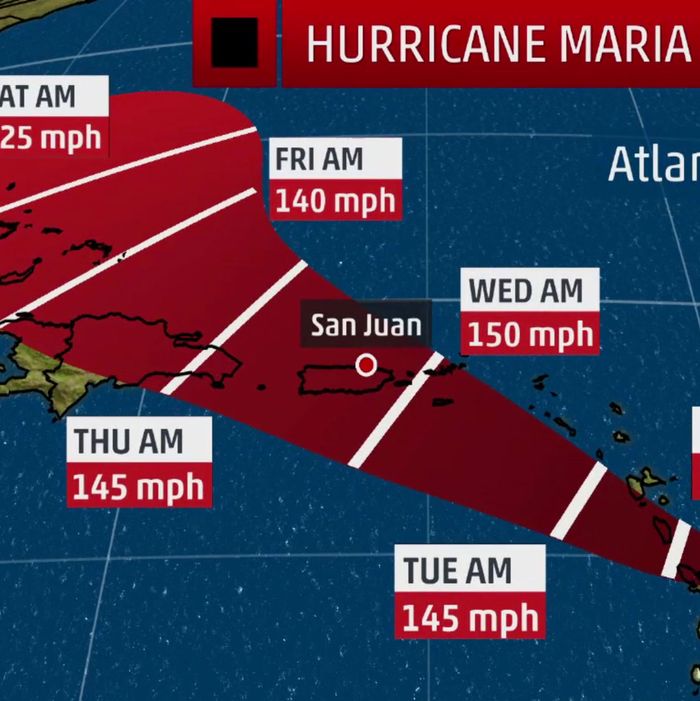 Hurricane Maria threatens Puerto Rico.
Hurricane Maria intensified to an "extremely dangerous" Category 4 storm Monday evening, packing sustained winds of up to 130 miles per hour. The system will likely become even stronger as its cuts its way across the Caribbean, threatening some islands ravaged by Irma just two weeks ago. Maria is also taking aim for Puerto Rico, which, while spared Irma's worst, is bracing for what could be a devastating direct hit.
The National Hurricane Center forecasts Maria's center to move through the Leeward Islands Monday afternoon into the evening. The storm is churning about 45 miles east south-east of Dominica, and will near Puerto Rico and the U.S. Virgin Islands by Wednesday. Those territories are facing a grim forecast, with possible storm surge between six and nine feet as Maria tears through. Torrential rains are also expected, with Puerto Rico seeing between six and 12 inches of rain — with more than two feet possible in some isolated areas.
The core of Maria is expected to pass over the island of Dominica within the next few hours. Rain, wind, and heavy surf will start pelting Dominica, along with Martinique and Guadeloupe, on Monday night.
A hurricane warning is in effect for many islands in the Caribbean, including the U.S. and British Virgin Islands. Parts of the U.S. territories of St. Thomas and St. John are in ruins after Irma, though Maria should pass just south of those islands, sparing them an Irma-like thrashing. But St. Croix — which dodged Irma — appears to be square in Maria's path.
Puerto Rico is also under a hurricane warning as of Monday evening. At least 450 shelters have been opened on the island, and evacuation orders have been issued for parts of it. "Flood-prone areas must be abandoned," said Public Security Secretary Héctor Pesquera. "If not, you will die." To complicate matters, Puerto Rico recently accepted approximately 1,000 evacuees, mostly U.S. citizens, from other Caribbean islands, who took refuge there after Irma'a devastation elsewhere.
Power outages are another major concern for Puerto Rico; though Irma scraped the territory's northern coast, more than two-thirds of islanders lost power. The territory's economic crisis will complicate the challenge of getting hundreds of thousands of residents back online after the storm.
Maria is likely to pass near Turks and Caicos and the Bahamas — but its next moves after that remain uncertain. Maria could head back out to sea, or menace the southeastern United States.
But don't forget Hurricane Jose is still hanging around off the U.S. coast, and is expected to bring heavy surf, winds, and rains from the mid-Atlantic to New England. A tropical-storm warning is in effect for areas such as Nantucket and Martha's Vineyard, and a tropical-storm watch extends up the Eastern seaboard from Delaware Bay South to Watch Hill, Rhode Island. East Rockaway Inlet and Long Island are also under a tropical-storm watch; a coastal-flood watch has been issued for New York City.
The New York region will get the brunt of Jose Tuesday into Wednesday, when the rain and winds will make it feel a bit like a nor'easter.