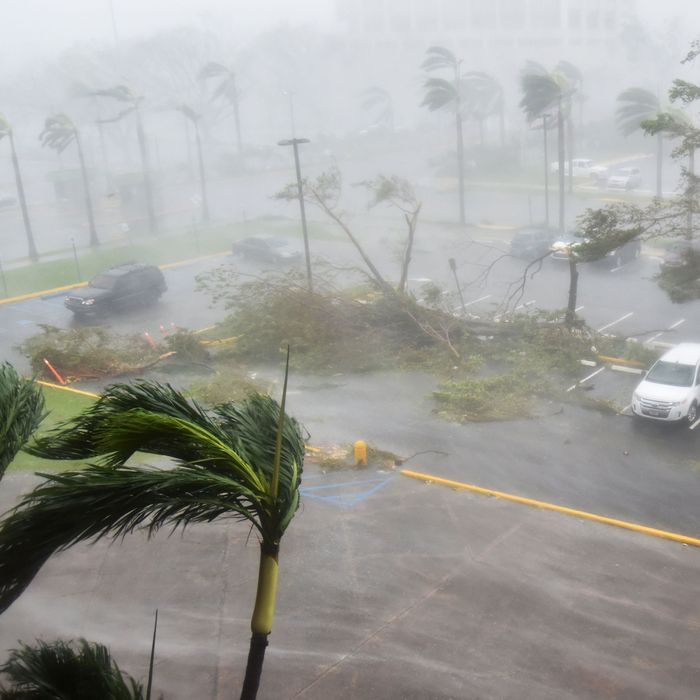 Trees are toppled in a parking lot at Roberto Clemente Coliseum in San Juan, Puerto Rico, on September 20, 2017, during the passage of the Hurricane Maria.
Photo: Hector Retamal/AFP/Getty Images
Hurricane Maria made landfall in Puerto Rico as an "extremely dangerous" Category 4 hurricane early Wednesday. The storm struck the southeastern part of the territory, near the town of Yabucoa, around 6:15 a.m. The hurricane — the strongest to hit Puerto Rico in nearly 90 years — continues to slam the island, wiping out power to the entire island and threatening dangerous floods.
Maria weakened from its peak Category 5 strength after passing through the Virgin Islands. It was still a terrifying storm upon landfall, packing winds of 155 miles per hour. The storm was downgraded to a Category 2 Wednesday afternoon, with sustained winds of 110 miles per hour. As of 5 p.m., the eye of the storm was off the shore of northwestern Puerto Rico, and it will keeping churning northwest, skating past the northeastern coast of the Dominican Republic. Once back over the sea, Maria may regain some of its former strength.
Puerto Rico is still at risk of "dangerous" storm surge up to five feet along the coastlines. Heavy rains have sparked flash-flood warnings and emergencies across the island. Puerto Rico braced for somewhere between a foot and 18 inches of rain, with some isolated areas getting drenched with more than two feet of rainfall. Mudslides from the deluge are a growing risk.
"This is only the beginning," Puerto Rico governor Ricardo Rosselló said earlier Wednesday. "More rain is yet to come and is going to cause major flooding and even more risk to life."
Indeed, "catastrophic" flooding remains the primary threat, even as Maria spins away. The mayor of San Juan, Carmen Yulín Cruz, told MSNBC that half of the city was underwater. Images from social media show streets turned into raging rivers:
Roselló asked President Donald Trump to declare Puerto Rico a federal disaster zone. According to El Nuevo Día, the governor made the announcement shortly before the electricity went down across the entire island, along with much of the telephone service. The governor has also put in place a curfew, beginning Wednesday at 6 p.m. local time.
Puerto Rico's emergency manager Abner Gómez said 100 percent of Puerto Rico is without electricity. "Puerto Rico — when we can go outside — we are definitely going to find our island destroyed," Gomez said. "The information that we have received is not encouraging. This is a system that has destroyed everything in its path."
Officials had forewarned Puerto Ricans before Maria arrived that electricity could be down for weeks, if not months. Though Puerto Rico got a glancing blow from Irma, which skated the northern part of the island, at least 70,000 customers were still without power about two weeks on.
Approximately 13,400 people are bedding down in shelters, along with about 500 pets. Roberto Clemente Coliseum, in San Juan, where hundreds took refuge, is reportedly being torn apart by Maria's winds. NBC News said people were huddled under bleachers, or had packed the hallways as the winds howled and water leaked through the roof. El Nuevo Dia has reported that the exterior roof of the Clemente Coliseum is now "in pieces."
"This is total devastation," said Carlos Mercader, the Puerto Rico director of federal affairs, on CNN Wednesday. "Puerto Rico, in terms of the infrastructure — it will not be the same that we lived yesterday in the island. This is something of historic proportions."
Images on social media show whipping winds, downpours, and flooded-out streets across Puerto Rico. The damage left behind looks likely to deal a crippling blow to the island's economy, already struggling with a financial crisis.
Before battering Puerto Rico, Maria cut a destructive path through the Caribbean. At least seven people died on the island of Dominica, which suffered "mind-boggling" damage. Hartley Henry, an adviser to Prime Minister Roosevelt Skeritt, described Dominica as "devastated." He said the country was "in a daze," and without electricity and running water. "The housing stock is significantly damaged or destroyed," Henry said. "All available public buildings are being used as shelters; with very limited roofing materials evident."
Communication with Dominica is still spotty, but footage is trickling out that shows an island ravaged by wind – debris littering hillsides, rooftops shorn away.
At least two people died on Guadaloupe, which was swiped by Irma on its way toward the Virgin Islands.
St. Croix, one of the U.S. Virgin Islands largely spared by Irma, was within Maria's grasp. According to the St. Croix Source, debris has made roads impassable, and many homes lost rooftops. St. Thomas — which did get beaten up by Irma — experienced flooding as the latest hurricane passed through. So far, no injuries or deaths have been reported.
After Maria finishes with Puerto Rico, it will hook north, passing the northeastern coast of the Dominican Republic and then spin toward the Bahamas and Turks and Caicos. Its path remains slightly uncertain — a lot depends on what Tropical Storm Jose, now hanging out off the coast of Nantucket, ends up doing — but so far doesn't seem to be a big threat to the mainland United States. But first with Harvey, then Irma, and now Maria — all monster Category 4 storms upon landfall — this hurricane season is likely to be the most expensive in United States history, costing at least tens of billions of dollars in cleanup, recovery, and rebuilding. And there's still two more months to go.
This post has been updated throughout.