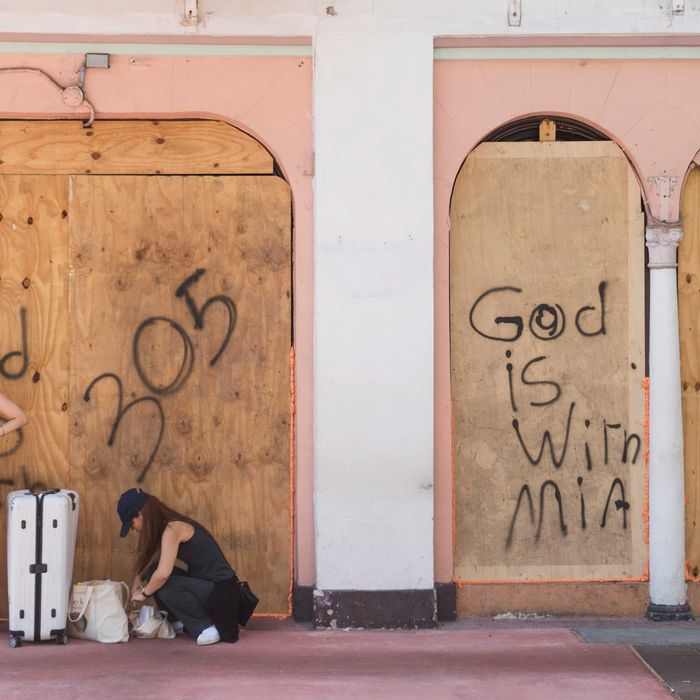 Tourists wait with their luggage as they prepare to leave in advance of Hurricane Irma in Miami Beach, Florida, September 8, 2017.
Photo: Saul Loeb/AFP/Getty Images
• Hurricane Irma is a powerful Category 4 storm, packing winds of 155 miles per hour, and looks likely to strengthen and once again reach the threshold for a Category 5 storm. The hurricane is approaching Cuba's northern coast and the central Bahamas, and will lash the region Friday into Saturday.
• Southern Florida is Irma's next target. The storm will near Florida early Sunday, though parts of the peninsula and the Keys could start experiencing tropical-storm-like conditions as early as Saturday. Current forecasts have Irma on course to strike southern Florida directly, and the size of the storm could deliver hurricane-force winds from coast to coast.
• Hundreds of thousands of people are evacuating from counties across Florida, with many of the evacuations mandatory in low-lying and coastal communities. Georgia governor Nathan Deal has also issued evacuation orders for some easterly and coastal counties. National Guard troops have been activated, or have been told to report to duty, in both of those states.
• President Donald Trump declared a state of emergency in Florida earlier this week, and added Georgia to the list on Friday. The U.S. Virgin Islands and Puerto Rico are also under an emergency declaration; Irma tore through St. John and St. Thomas earlier this week, razing homes and killing at least three. Puerto Rico was largely spared, though widespread power outages persist.
• Irma devastated a handful of other islands as it spiraled through the Caribbean, and left at least 23 people dead in its wake. Islands such as Barbuda and Saint Martin lost around 90 percent of their housing stock. Hurricane Jose, now a Category 4 storm, now threatens many of the Leeward Islands just rampaged by Irma.
Irma, a perilous Category 4 storm, is tearing through the Caribbean, carving a path of destruction from Barbuda to the Bahamas. The hurricane pounded Turks and Caicos and the southeastern Bahamas Thursday into Friday, and it is now spinning near Cuba's northern coast and the central Bahamas.
According to the National Hurricane Center, it will pinwheel north-northwest and approach the Florida Keys by late Saturday into early Sunday. The storm has weakened slightly, now packing winds at 155 miles per hour. But current predictions show Irma is likely to intensify as it passes over warm ocean waters, and become a Category 5 again before it ambushes the Florida Keys. Its wind speeds are down from the peak at 185 miles per hour, which stayed in effect for a record-breaking 37 hours. Only Typhoon Haiyan came close at 24 hours; that superstorm killed more than 6,000.
Whether as a Category 5 or 4, Irma will pack a destructive punch when it strikes southern Florida. Where exactly the storm will hit remains uncertain, but forecast models suggest it will likely hit Florida straight on, and then ride north to Georgia and South Carolina. The storm appears to be tracking a bit farther west — its center away from Miami — and hitting the Keys and then the southwestern peninsula near Everglades City head on.
Irma may still shift course over the next 24 to 48 hours, but few parts of southern Florida will be spared. All of southern Florida is either under a hurricane watch or warning right now, and those warnings are pushing north as the storm comes closer.
Irma is huge, packing so much energy, that its hurricane-force winds are extending outward at least 100 miles. The peninsula's width is approximately 130 miles, meaning dangerous winds and gusts are likely to stretch from coast to coast. "This thing is bigger than our entire state right now," Governor Rick Scott warned Thursday.
Officials and forecasters are taking no chances and warning everyone in the possible path of the storm to prepare — though time is now running short. "Irma is likely to make landfall in Florida as a dangerous major hurricane," the National Weather Service warned, "and will bring life-threatening wind impacts to much of the state regardless of the exact track of the center."
Possibly "life-threatening" storm surge is another major concern. The National Hurricane Center has issued storm-surge warnings and watches for southern to central Florida, including the Keys. Cities on the southeastern coast could see storm surge between five and ten feet. Six- to seven-foot waves have already been recorded off the coast of Miami.
The National Hurricane Center also just raised the alert for southwestern Florida, now predicting storm surges as high as 12 feet in the western Keys and Cape Sable, near the Everglades. "Widespread deep inundation, with storm surge flooding greatly accentuated by powerful battering waves," the National Weather Service said ominously, "structural damage to buildings, with many washing away … Locations may be uninhabitable for an extended period."
"You've got to listen to your local officials — this storm surge can kill you," Scott said at a press conference Thursday. "My biggest concern is people don't understand the amount of potential storm surge. This can cover homes. And we just haven't seen this. We didn't see this in Andrew."
Mandatory evacuation orders have been issued across the state of Florida. Hundreds of thousands of people are fleeing coastal areas as the window to move to safer ground narrows. Scott urged Floridians to heed evacuation orders immediately. "We will quickly run out of good weather to evacuate," he said Friday.
More than half-a-million people are under mandatory evacuation orders in Miami-Dade County, a directive that expanded from the already flood-prone Miami Beach and other low-lying coastal areas to areas further inland by Thursday. Officials later expanded the order to include areas even further inland. Miami-Dade plans to open 43 shelters to accommodate the displaced. But their capacity — 100,000 beds — falls way short of the 600,000 who've been asked to leave their homes.
The Florida Keys, where Irma will likely strike first, began evacuating residents earlier this week. Broward County, which includes Fort Lauderdale, was also one of the first to issue mandatory orders to those in low-lying areas or in mobile homes. Official say about 9,000 people have already checked into shelters, and more sites are expected to open.
Late Thursday, officials in Palm Beach County ordered 290,000 people to get out by Friday. Mar-a-Lago, president Donald Trump's private club/the "Winter White House," fell under those orders. Palm Beach officials warned those who risked staying behind to have batteries, charged phones, and sufficient water and food supplies. "It may be days before public assistance can get to you," an official said.
Dozens of other counties have issued mandatory or voluntary orders. A full list is available here.
Fuel shortages across the state have impeded some as they leave their homes, and dozens of gas stations in Miami are completely dry, reports the Miami Herald. Stores are nearly, if not already, cleaned out of supplies. Those still desperate to board up homes, or grab the last of the bottled water and batteries are staring down long lines and empty shelves from Miami to Tampa.
Evacuations have also caused gridlock and traffic as cars flood Florida's main routes — but a sign, at least, that people are taking Irma's threat seriously. "I know many of you are stuck in traffic, I'm sure it's very frustrating," Scott said Friday, telling people all tolls would be waived. "Evacuations are not convenient but they are absolutely meant to keep you safe."
Georgia governor Nathan Deal has also issued mandatory evacuation orders for areas at risk of storm surge. Irma's destructive force after Florida is harder to pin down — much will depend on how the storm interacts with land once it's arrived in Florida — but a huge chunk of Georgia will almost certainly get some dose of Irma's hurricane or tropical-storm conditions. "The storm is still three days away, so we don't want people to be complacent," said Homer Bryson, the director of the Georgia Emergency Management and Homeland Security Agency, which is encouraging people to get out. "Even if [Irma] stays on the current track, the worst part of that storm is on the right front quadrant, and that will still impact our coast."
With Florida, and now Georgia, approximately 1.4 million people are under evacuation orders, offering echoes of last year's Hurricane Matthew, where parts of Florida, Georgia, and South Carolina saw an exodus of approximately 2 million people. And some of the areas hit hard in Matthew are now vulnerable to Irma's wrath.
"This is a catastrophic storm that this state has never seen before," Florida governor Rick Scott said at a press conference Friday. He has repeated all week that property and possessions can be replaced, but lives cannot. Scott had 7,000 National Guard troops report for duty Friday, and he closed all public schools through Monday.
Deal, in Georgia, declared a state of emergency in 30 counties, and also authorized 5,000 National Guard troops to be on the ready as Irma nears.
President Donald Trump followed up Friday and declared a state of emergency in Georgia. He had previously done so in Florida, Puerto Rico, and the U.S. Virgin Islands ahead of the storm's arrival, freeing up federal aid. Trump issued a statement on Twitter, asking everyone in the storm's path to "be vigilant" and listen to officials' orders. "When the time comes we will restore, recover, and rebuild together as Americans." He also said, in a separate tweet on Friday that the "Federal G is ready."
FEMA director Brock Long said Friday that the tens of millions of people from Alabama to North Carolina should stay tuned to the forecast. "It's not a question of if Florida's going to be impacted," Long said during a Friday press conference. "It's a question of how bad Florida's going to be impacted."
But with Irma coming on the heels of Harvey's colossal destruction in Texas, FEMA is facing a one-two punch. Bloomberg reports that the agency's Disaster Relief Fund is stretched thin in both personnel and resources.
Long told CBS News that the agency would never "let money get in the way of saving lives."
"Despite everything that's going on," Brock said, "this is what we test and train for."
On Friday, Trump signed a $15.2 billion Harvey relief package, as part of his deal with the Democrats to fund the government through December 8.
This post has been updated throughout.