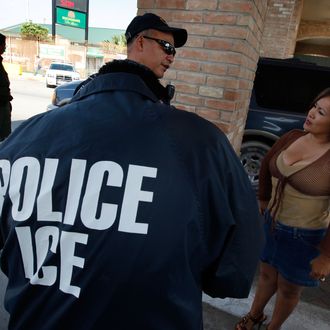 Photo: Scott Olson/Getty Images
On Thursday evening, NBC News reported that the Department of Homeland Security was planning five days of huge Immigration and Customs Enforcement raids for later this month. According to NBC's sources, the raids would target 8,400 undocumented immigrants across the United States, constituting "the largest operation of its kind in the history of ICE." But shortly after NBC published the report, ICE indicated that Hurricanes Harvey and Irma had forced the agency to "adjust" its plan.
A spokesperson told NBC: "While we generally do not comment on future potential law enforcement actions, operational plans are subject to change based on a variety of factors. Due to the current weather situation in Florida and other potentially impacted areas, along with the ongoing recovery in Texas, U.S. Immigration and Customs Enforcement (ICE) had already reviewed all upcoming operations and has adjusted accordingly. There is currently no coordinated nationwide operation planned at this time. The priority in the affected areas should remain focused on life-saving and life-sustaining activities." The spokesperson added that "routine operations" would continue.
The roundups, which ICE dubbed Operation Mega, were to be aimed at "gang members or perpetrators of serious crimes," but an official who spoke to NBC said that other immigrants could end up as "collateral."
ICE has become much more aggressive under President Trump, with arrests — including those of people without criminal records — skyrocketing. The agency recently got the go-ahead to make 10,000 new hires, and the DHS is working to expand its ability to deport undocumented immigrants. So, while Operation Mega may be scuttled at the moment, it seems unlikely that the storms have done away with the plan for good.