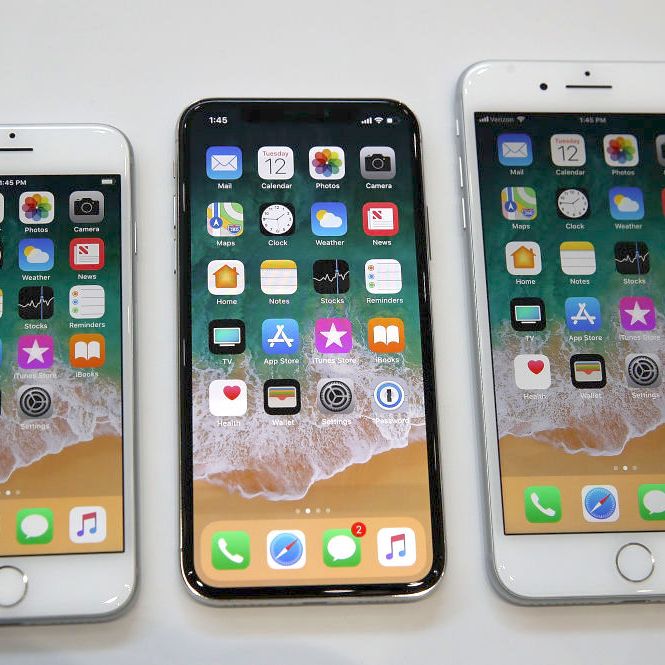 Photo: Justin Sullivan/Getty Images
The last gasp of Apple's old design, the iPhone 8, hits store shelves this Friday, starting at $699, representing "the last, best version of what your phone looks like now." While much of the coverage (and Apple itself) seems focused on the iPhone X, not out until November, what's the critical consensus about the iPhone 8 and iPhone 8 Plus? Basically: It's nice, but you probably don't need it.
It's definitely an iPhone!
The iPhone 8 marks the fourth iteration of the design Apple introduced with the iPhone 6, and much of it remains unchanged. Same home key, same buttons, same screens, same two sizes. A new glass back adds some heft and makes it "easier to hold than the 6 and 7." It's faster than its predecessors, and iOS 11 makes some quality-of-life improvements. So, if you like iPhones, you're in luck.
But it's also just an iPhone.
There's nothing in the base hardware, beyond the stupidly fast new A11 chip and True Tone screen tech that truly separates the iPhone 8 from the iPhone 7, or even 6 and 6s. The True Tone screen gets generally good marks, making "colors I see now seem a little more accurate […] and everything is generally easier on the eyes too." There's, of course, no headphone jack, so you'll need to continue to keep your wireless headphones charged (or a dongle around). If you want to use augmented-reality apps (and they could be truly compelling, given some time to develop), you'll need at least an iPhone 6s, so that would perhaps be the base level that you could consider upgrading to an 8 if you really don't care about the iPhone X. There's also wireless charging, so you can lay your phone down on a Qi charging mat and charge it without plugging it in.
It's got a great camera.
Both phones get universal high marks for their cameras, with the iPhone 8 Plus getting especially high marks thanks to its dual-rear cameras. A newly redesigned physical camera and that blazingly fast internal processor mean photos get taken quickly, but a beta app called Portrait Lighting, which allows for fancy faux-pro-lighting effects, is a mixed bag: "Sometimes the effect was stunning, but other times it looked very fake and weirdly clipped."
But why buy the 8 when you can wait?
The iPhone 8 may make a convenient lily pad for those who want to jump to a better phone from an older iPhone, but don't want to shell out for the iPhone X (or just don't want to lose the home button). It'll be the same iPhone you've known and loved and used for a decade. But the future of the iPhone (and smartphones in general) is clearly the all-screen, bezel-free iPhone X, which comes out just a few weeks from now. And if you really want the latest and greatest from Apple, paying a bit more for the iPhone X is going to be worth it. The iPhone 8 is nice, but it's a tough pill to swallow to think that you're paying flagship-phone prices for a phone that won't remain the best thing Apple offers even for the rest of 2017.