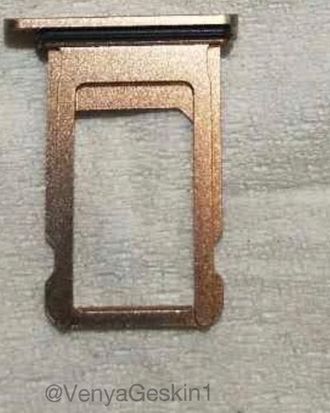 If you shelled out for a rose gold iPhone, prepare to feel embarrassment. You might even say you'll be blushing. [Editor's note: This will be Jake's last day and his Slack access has already been revoked.]
As these rumors tend to come about, it's all in the manufacturing chain. Two SIM card holders were photographed, and one showed a version of gold that's distinctively more, um, gold than that Apple's rose gold color.
Since introducing rose gold as an option for the iPhone 6s, it's gained a certain amount of cachet with those who like their phone with a little more flair than the traditional silver or black.
The gold in the SIM card appears to be a bit more russet in color than the rose gold. Extrapolating wildly, if the rose gold was a slightly understated form of conspicuous consumption (yes, my phone is rose gold — but it's a very pale gold), the blush gold iPhones may signal Apple moving even more aggressively into iPhones — especially the iPhone 8 — as even more pure status-symbol and luxury items; something that Jony Ive has been pushing for internally for years. Regardless, these blush gold phones will sell like crazy.
There've been consistent rumors that the iPhone 8 will have new color options available, and new colors sell well — the jet black options of the iPhone 7 and iPhone 7 Plus were incredibly hard to come by for months.