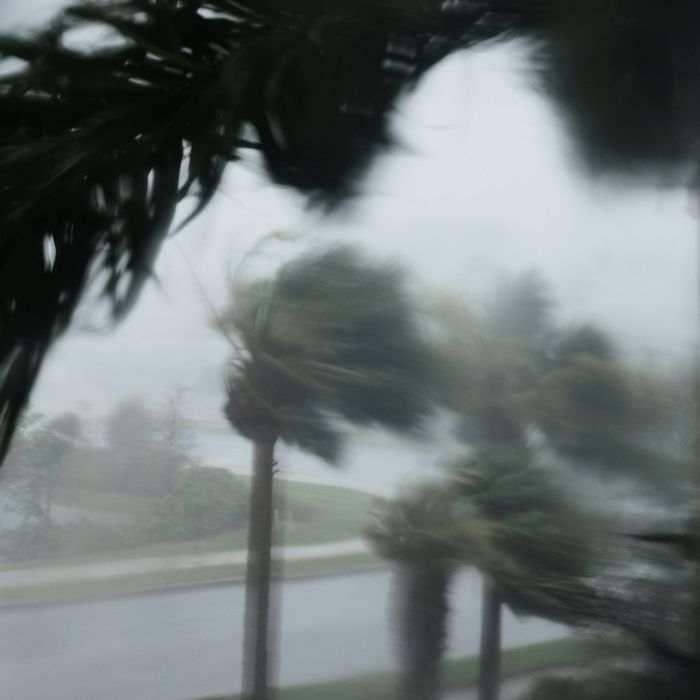 Hurricane Irma's arrival in Fort Myers, Florida, on Sunday.
Photo: Spencer Platt/Getty Images
• Hurricane Irma weakened Monday to a tropical depression, after a weekend slicing up the state of Florida as a powerful hurricane. Early on Tuesday morning, Irma was about 65 miles southwest of Atlanta, moving north-northwest with winds of 35 mph.
• Irma will continue weakening as it moves through Georgia and Alabama, but it's still packing a powerful punch and causing havoc far from the center of the storm. Jacksonville, in northeastern Florida, saw record-breaking storm surge. Tropical-storm-force wind gusts are being recorded across Georgia, and Charleston, South Carolina, is now dealing with intense flooding.
• At least 11 storm-related deaths have been reported so far in the United States.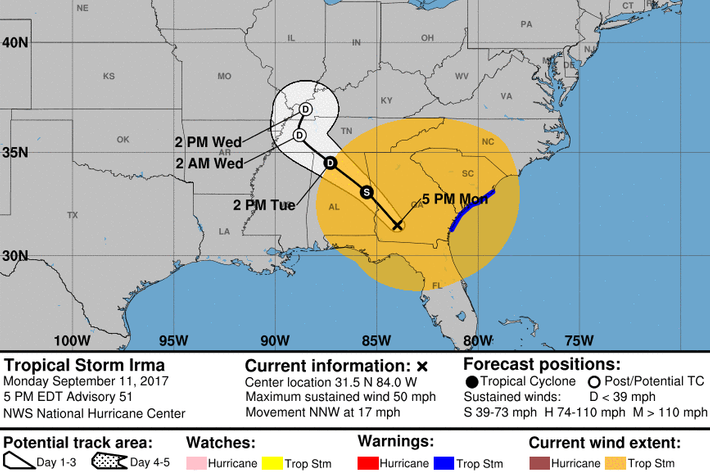 Florida faced the last of Irma's wrath on Monday, with the northeastern coastline, including Jacksonville, getting walloped with record flooding and storm surge. And though far from the storm's core, the rest of the southeastern coastline — Georgia up through South Carolina — are also experiencing major problems. Savannah and Charleston are seeing rising floodwaters and surge made worse by heavy rainfall and high tide. Beyond that, tropical-storm-force winds will stretch out some 200 miles from Irma's center.
Record storm surge deluged Jacksonville, Florida, Monday, beating the previous record set by Hurricane Dora in 1964. Flash-flood warnings are in effect across the city, which is about 400 miles from where Irma made landfall. An overflowing St. Johns River swamped the downtown, and officials are warning people to stay indoors as its floodwaters could rise still higher.
That flooding near Jacksonville extends up to a huge swath of the southeastern coastline, as Irma's winds and rain brought storm surge from the coast and filled rivers to cresting levels. Water washed over streets in Savannah on Monday, though by afternoon the sun had peeked out.
Coastal South Carolina is feeling Irma's effects, with this afternoon's high tide exacerbating problems along the coast. The National Weather Service has issued a flash-flood warning for a deluged Charleston, as the Charleston Harbor reaches its second-highest tidal level ever — ahead of last year's Matthew, and runner-up to Hugo.
Here's the scene unfolding in Charleston Monday:
And on Hilton Head, off South Carolina's coast:
Inland Georgia is also taking a beating from Irma, where gusts of 60-plus mph winds are being felt far inland in places such as Macon and Athens. "Wind speeds that high literally can lift furniture off the ground and turn it into projectiles," said Atlanta mayor Kasim Reed. "We're already experiencing wind damage downtown." The worst of what's left of Irma will lash the region throughout the day Monday.
In Atlanta, trees toppled and rain pounded a city under a tropical-storm warning for the first time ever. Winds tore slabs from some buildings, underscoring officials' warnings to stay off the roads. City agencies, courts, and school will be closed in Atlanta on Tuesday, and hundreds of flights out of Atlanta's airport, a Delta hub, have been canceled.
Florida's west coast faced a double threat from Irma: First, the destructive winds near Irma's core, which threatened to surpass 100 mph in many areas. Second, the potentially life-threatening storm surge. But so far, cities along the Gulf Coast avoided the worst-case scenario of storm surges six feet or more. Even though the sea dramatically receded along the coast as far north as Alabama on Sunday, the deluge hasn't come. And in many areas, such as Naples, the storm surge peaked at below the feared levels.
That doesn't mean the storm-surge threat has totally passed, and warnings still remain in effect for north-central and northwestern Florida, including Tampa Bay. Tampa mayor Bob Buckhorn, who warned that Irma would be a "punch to the face," instead characterized it Monday it as a "glancing blow." That danger will continue to diminish as Irma weakens further Monday into Tuesday, and moves farther inland into Georgia and Alabama.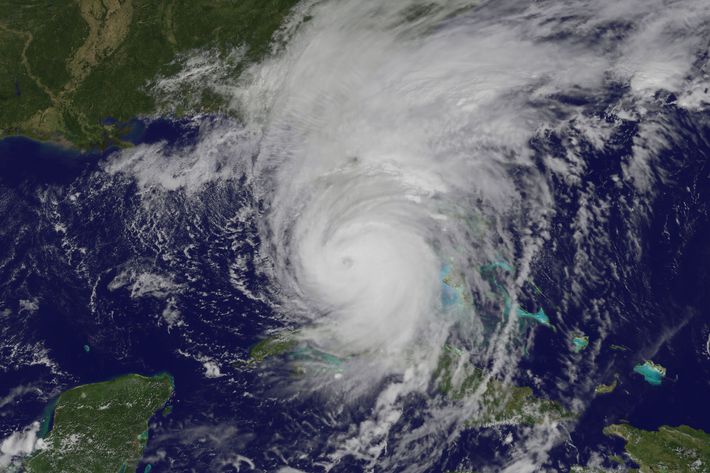 After devastating the Caribbean, Irma lashed the northern coastline of Cuba on Saturday, flooding cities with storm surge, damaging buildings, and causing massive power outages. When Irma made landfall in Cuba on Friday night, it was the first Category 5 storm to do so since 1924.
Irma was a Category 4 storm when it hit the Florida Keys early Sunday morning. The storm's eye made its first landfall at 9:10 a.m. at Cudjoe Key, just east of Key West in the lower Keys. Irma is the first Category 4 hurricane to hit Florida since 2004. Combined with Hurricane Harvey, Irma marks the first time in recorded history that two Category 4 hurricanes have made landfall in the U.S. in the same year — much less back-to-back and 16 days apart. Based on measurements of Irma's atmospheric pressure on Sunday morning, it is tied for the seventh most powerful hurricane to make landfall in U.S. history.
Some 6.5 million Florida residents were told to evacuate their homes in advance of Irma's arrival. An exodus took place all day and night Saturday as authorities tried to keep the traffic moving. At least 127,000 residents sought refuge in more than 500 shelters throughout the state, some of which quickly filled to capacity on Saturday.
At least seven people have died in Florida as a result of the storm. According to ABC News, one person was found dead in a home in Shark Key, two deaths were reported in Monroe County, another two people died in Hardee County, and one person died in a single-car crash in Orange County. At least three deaths have been reported in Georgia, and one person has died in South Carolina. The storm claimed the lives of 27 people as it tore through the Caribbean. State news media in Cuba reported ten deaths on the island.
At least 6.7 million customers had no power in Florida, Georgia, North Carolina, South Carolina, and Alabama on Tuesday morning. Utility officials in Florida said it could take weeks to restore all service.
At Florida governor Rick Scott's request, President Trump signed a federal disaster declaration for Florida on Sunday. Scott activated all 7,000 members of the Florida National Guard and 10,000 guardsmen from other states will be deployed as well.
As Irma spins northward, weakening but still causing havoc, Floridians are beginning to take stock of the damage. Here's a look at how Irma affected different areas of the peninsula:
Southwest Florida
Irma made a second landfall at Marco Island, south of Naples, just after 3 p.m. on Sunday. One-hundred-and-fifteen mph winds were recorded at that time, as well as a gust of 130 mph in one location. What could be a devastating storm surge is still expected in the area once the center of the storm passes.
Here was the scene in Naples a short time later:
Floodwaters still swamped areas of Naples, even as the sun came out on Monday:
Fort Myers, about 40 miles north of Naples, took a direct hit from the storm's eye wall:
In a chilling phenomenon north of the storm, water along Florida's west coast receded as Irma's winds pushed it out to sea on Sunday (the storm will bring the water rushing back later once the wind's flow changes direction):
The manatee was reportedly rescued.
Meanwhile, even Florida's flamingos were being led to shelter in Tampa on Sunday:
Tampa Bay and West-Central Florida
Tampa Bay braced for Irma's blow Sunday into Monday. The low-lying city is about a century overdue for a major hurricane, and officials prepared for the worst-case scenario. But by Monday morning, the city and the surrounding area seemed to have dodged the worst of the storm. Officials are still assessing the damage, and about 650,000 homes and businesses were without power Monday. Downed trees and power lines dotted the landscape, and some areas experienced flooding.
The National Weather Service also warns of potential storm surge on the coastline even after Irma spins past the region. Irma sucked out the water in Tampa Bay on Sunday, an ominous sign of what was to come.
But, so far, Tampa appears to have escaped the devastating six-foot storm surges initially forecast.
Miami and Southeast Florida
While Miami and southeast Florida were spared from the storm's direct path, the area was still hit with high winds, rainfall, and at least three feet of storm surge in some areas on Sunday. Wind gusts of up to 94 mph have been recorded near Miami, and high winds caused two of the city's dozens of tall construction cranes to partially collapse. A third crane collapsed in Fort Lauderdale. Footage published on social media showed several feet of flooding in downtown Miami, including in the financial district, as well as flooding on Miami Beach.
The the worst effects of the storm passed overnight on Sunday night, and the floodwaters are expected to recede. In the meantime, a curfew is in place until 7 a.m. Monday, and first responders appeared to be answering calls again by the early evening. This was what downtown looked like on Sunday:
The Miami-Dade Police Department announced just after 9 a.m. Sunday that it would no longer be responding to emergency calls, warning residents not to venture outdoors during the storm. Below is additional footage from Miami, and the first two videos, taken later in the day, demonstrates why local authorities are telling residents to remain indoors until Monday:
And from earlier in the day:
And much farther up Florida's east coast, St. Augustine was already experiencing flooding just after midday Sunday as well:
The Florida Keys
Up to 120 mph wind gusts were measured in the Keys as it was hammered by Irma's eye wall early Sunday morning, and the area experienced heavy flooding as well, with a storm surge of over ten feet. The Miami Herald reports that the islands sustained heavy damage, all of the Florida Keys are without power, and airborne relief efforts are being planned to respond to what authorities are calling a humanitarian crisis. After emerging from a shelter in Marathon, a local newspaper editor told Florida Keys News, "Everything is underwater, I mean everything." Here is some footage of what it looked like when the storm hit, as well as some of the aftermath:
And images and footage of the resulting storm surge:
There was some good news, however:
Officials in Monroe County warned of a potential "humanitarian crisis" as they prepare for more loss of life among those who did not heed evacuation orders, and most of the Keys are without power or running water. Army National Guard helicopters are ready to conduct search-and-rescue operations.
Residents who did evacuate and are eager to check on their properties will likely have to wait. "We cannot support another mouth in Key West," city general manager Jim Scholl told reporters Monday. "There is no way unless they want to wait around Bayview Park waiting to use the port-a-potties."
This breaking news post will be continuously updated.