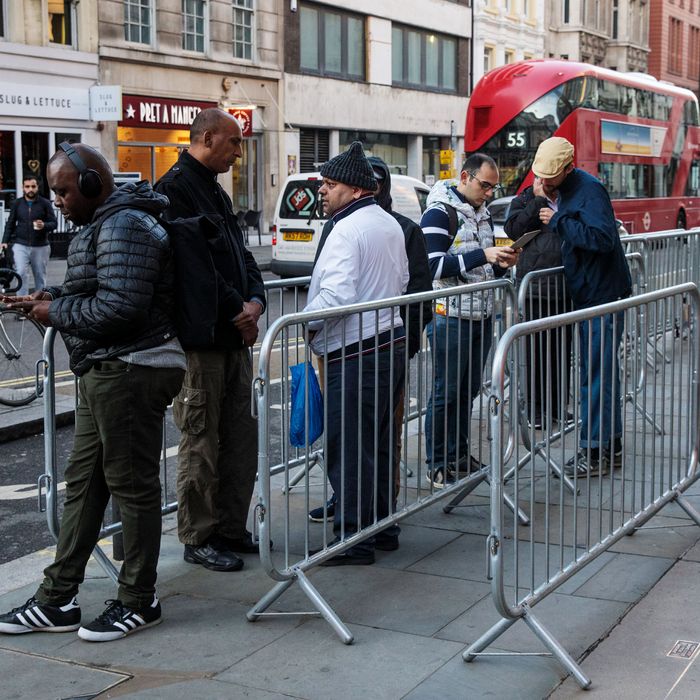 Londoners queue up for their chance to purchase an iPhone 8.
Photo: Jack Taylor/Getty Images
The iPhone X doesn't come out until November, but in case you forgot, there's another new iPhone coming out today. The iPhone 8, a minor spec bump over last year's iPhone 7, is on sale, but Apple seems to have misjudged the optics. Usually, iPhone launches are defined by long lines and die-hard fans camping out, but by introducing the iPhone X at the same time, the company appears to have kneecapped itself. The traditional photos of Apple fans crowded in long lines waiting to get the latest device are nowhere to be found. It's the X they're waiting for, and the 8 is just a sideshow.
An anecdote: Last year, when I went to pick up the iPhone 7 at the Apple Store in Soho, I was told that even though I had an appointment at 1, I would have to wait an hour in a line stretching around the corner (I laughed and just came back a few hours later). Compare that with this morning, when the iPhone line had cleared out 20 minutes after the store opened at 8.
Nearby, at an Apple Store by the bustling World Trade Center, the line was a minor hassle, instead of a spectacle.
On West 14th Street, three people waited in line.
It's not thrilling in the rest of the country, either. In Scottsdale, Arizona, three people camped out.
From Palo Alto, Apple's backyard, comes this savage video — a time lapse of the entire waiting queue that lasts just one second. In past years, a standard coverage technique is to see how long it takes to walk down the entire line; this year, you don't even have to take a step.
In Boston, there was one person in line at the Boylston store around 6 this morning, but it eventually grew to a couple dozen before the doors opened. By 9 a.m., the line had disappeared.
In the U.K., according to Mashable, there were more Apple employees than customers waiting to pick up the devices. In China, CNET reports, Apple had to remove the barricades outside the stores, because there were no rabid iPhone 8 fans in need of containment.
The crowd was more substantial in other places. Apple's flagship store on Fifth Avenue in NYC sported a long line. In San Francisco, the tech capital of the world, there was a long line, but smaller than years past.
In Singapore, a hefty number of fans were in line the night before.
Using launch-day lines as tea leaves to divine iPhone sales is an imprecise art, but the overall message is clear: People seem to regard the iPhone 8 as a half-step. It's an iPhone, so it'll still perform decently in terms of sales, but the optics are off. The public spectacle of an iPhone launch didn't happen today. What's the point of camping out and getting hyped for the 8 when the marquee iPhone X comes out in six weeks?