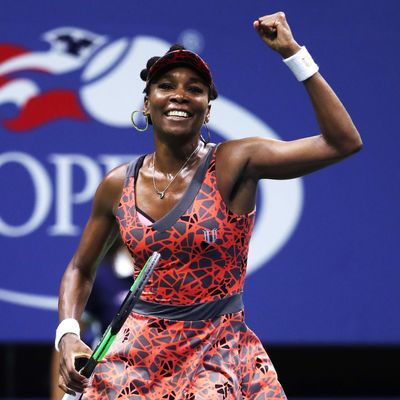 Venus Williams.
Photo: Matthew Stockman/Getty Images
The last time the U.S. Open had four American women playing in the semifinals was in 1981. That changes on Thursday night, when Venus Williams, Sloane Stephens, CoCo Vandeweghe, and Madison Keys take the court at Arthur Ashe Stadium.
At 37, Williams is the elder stateswoman of the group and the only one alive when Chris Evert, Kathy Rinaldi, Zina Garrison, and Martina Navratilova made up the all-American semis 36 years ago. She was 15 months old at the time.
"It's been a great two weeks for American tennis. Seeing all the American players in the draw and all of them advancing so deep and competing so well," Williams said after her quarterfinal win Tuesday. "It's great to see this resurgence, and I hope it can continue."
Williams will have the chance to punch her ticket to the U.S. Open final first on Thursday, when she takes on 24-year-old Stephens, who is only recently returning to top form after foot surgery in January. Then Madison Keys, 22, and CoCo Vandeweghe, 25, will each attempt to make their first ever Grand Slam final.
Williams, meanwhile, will be vying for her third Grand Slam final of the year. The good news for her is that the two women who prevented her from winning the Australian Open and Wimbledon either stayed home (her sister Serena Williams) or have already been sent packing (Garbiñe Muguruza). If she's able to get past Stephens and then defeat either Keys or Vandeweghe in the final, Williams will take home her eighth Grand Slam title and her third U.S. Open. When she won her first, in 2000, her fellow semifinalists were all under 9 years old.