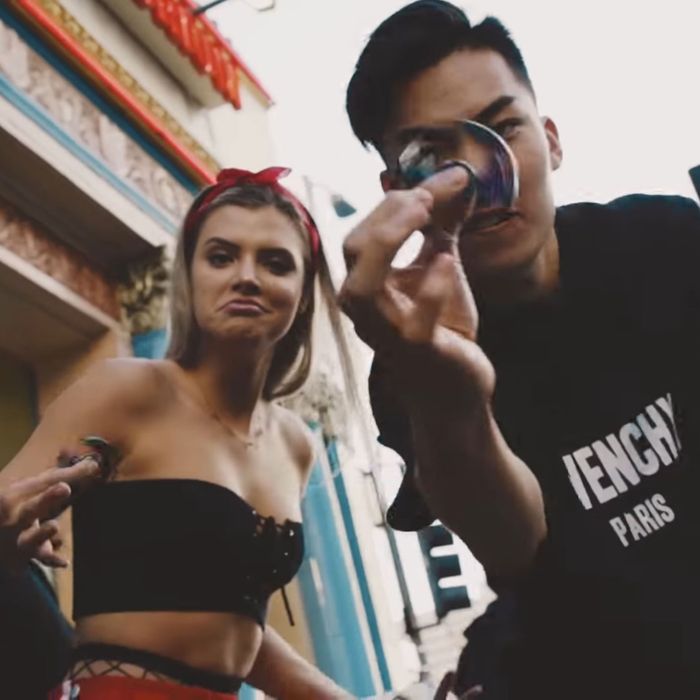 A scene from Alissa Violet and RiceGum's diss track about Jake Paul.
Photo: RiceGum/YouTube
Once upon a time, YouTuber, ex–Disney Channel star, and self-promoting hurricane-relief worker Jake Paul used to date fellow internet celebrity Alissa Violet. The pair broke up — Violet later alleged that Paul had been emotionally and physically abusive — prompting a whole bunch of internet drama and, well, music videos. (You guys, 2017 is wild.) Paul and his Team 10 (Paul's social-media incubator) friends created a music video called "It's Everyday Bro." (The song's title is Paul's motto, a play on his commitment to vlogging daily.) The video made references to Violet and Paul's falling out, which ultimately led to Violet being kicked out of the Team 10 house. The track, which dropped back in May, reached spot number 94 on the Hot 100 list, according to Billboard.
Violet, working with fellow YouTuber RiceGum, was quick to respond with a track of her own. "It's EveryNight Sis." Verses call out Jake for being a cheater, a bully — a former classmate of Paul's tweeted that he had been a victim when the two were in school — and for starring on a Disney show nobody has heard of. (He was later fired from said show.) There's also a bit about him paying for sex and Jake's brother Logan being a better kisser. Violet did not come to play.
Violet's track, which dropped early in June, spiked again in August, after Paul and some of his Team 10 friends alleged that Violet's new boyfriend, FaZe Banks, had assaulted Paul's assistant in a Los Angeles club. This week, Billboard reports, the track debuted on the Hot 100 list. The future of music is doomed.