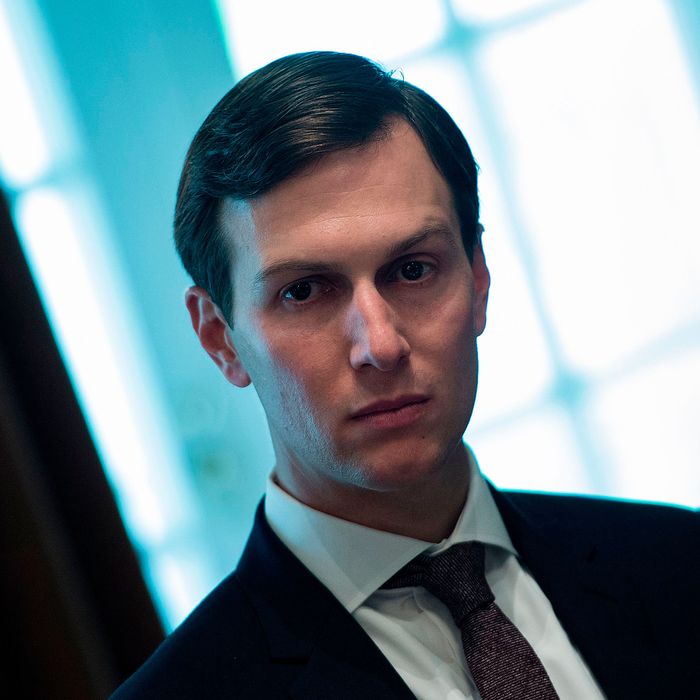 Jared Kushner.
Photo: Brendan Smialowski/AFP/Getty Images
Earlier this week, Jared Kushner's lawyer admitted that the Trump adviser (and son-in-law) wrote and received official emails from a private email account, a grave crime when Hillary Clinton does it, but apparently not when Trump family members do. Today, the story got even better, if that's the right word: CNN is now revealing that Kushner did not disclose the email account when he met with the Senate Intelligence Committee. How does CNN know this? Because his lawyer accidentally emailed a prankster posing as Kushner.
"The Committee was concerned to learn of this additional email account from the news media, rather than from you, in your closed staff interview," Senators Richard Burr and Mark Warner wrote to Kushner's lawyer. They also requested all other personal communication channels, whatever they may be — email, messaging apps, and so on.
The letter, labeled "COMMITTEE SENSITIVE," was forwarded by Kushner's lawyer, Abbe Lowell, to an impostor who'd previously impersonated Kushner to Lowell. Earlier this week, the infamous prankster known as @SINON_REBORN, known for pretending to be prominent political figures over email, had emailed Lowell pretending to be Kushner. The pair struck up a conversation, with Lowell unknowingly communicating with a false Jared under the address kushner.jared@mail.com.
So today, when Lowell received the letter and went to forward it to his client, his email program, looking up communications with accounts named under Jared Kushner, auto-filled the wrong address. He forwarded the Senate committee's letter to @SINON_REBORN, who passed it on to CNN.