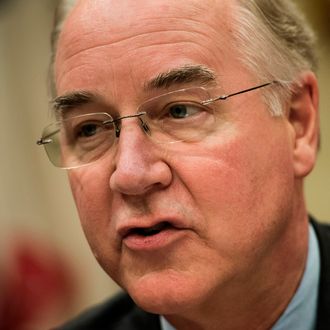 Tom Price.
Photo: Brendam Smialowski/AFP/Getty Images
A West Virginia prosecutor's office has dropped its charges against journalist Dan Heyman, who was arrested in May for asking Health and Human Services Secretary Tom Price a question. On Wednesday, the Kanawha County prosecutor and Heyman's representatives released a joint statement announcing, "The State has determined, after a careful review of the facts, that Mr. Heyman's conduct, while it may have been aggressive journalism, was not unlawful and did not violate the law." Heyman, a longtime reporter who works as a correspondent for the Public News Service, had been charged with willful disruption of governmental processes, a misdemeanor punishable by a $100 fine and up to six months in jail.
Heyman's arrest took place at the West Virginia State Capitol as he asked Price about the Republican health-care bill that had then just passed the House. Price refused to answer, so Heyman followed him through the building, repeating his question and reaching over staffers to record audio with his phone. As footage of the incident confirmed, someone told Heyman to back off Kellyanne Conway, who was traveling with Price, and he did so. Still, after about a minute, police pulled Heyman away and handcuffed him. After being released on $5,000 point, he was accused of "aggressively breaching the Secret Service agents" and "causing a disturbance by yelling questions." The case was condemned by free-speech advocates, with the ACLU calling it a "horrifying" example of the Trump administration's disregard for the First Amendment. Meanwhile, Price "commended" the police for doing "what they felt was appropriate," later saying that they'd done a "stellar" job.
Following Wednesday's announcement, Heyman said he was "very relieved" to see the charges dismissed. "Facing six months of jail time for asking a question as a journalist was pretty troubling. I don't want my arrest to have a chilling effect on other reporters because we all need to keep asking the tough questions of elected officials." Somebody tell Representative Greg Gianforte.