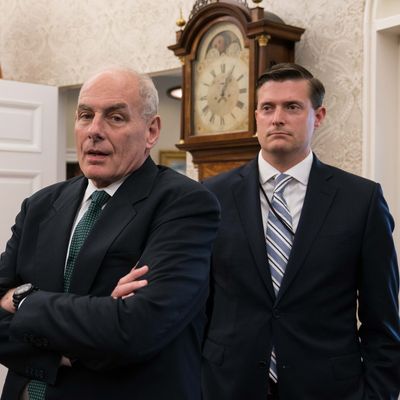 White House Chief of Staff John Kelly.
Photo: Nicholas Kamm/AFP/Getty Images
White House Chief of Staff John Kelly's ongoing efforts to cut off President Trump's supply of nonsense now include blunting the influence of Omarosa Manigault, the former Apprentice star and current White House advisor. The Daily Beast reports that Manigault has been one of the worst offenders in "triggering" Trump by passing on unvetted news articles that enrage the president. Former White House Chief of Staff Reince Priebus also tried to stem Manigault's influence and exclude her from meetings but failed. Kelly seems to have had more success, however; enough so that Manigault has grown frustrated with her lack of access to the president.
There seems to be a sense among White House insiders that Kelly, at least during the president's normal work hours, has been able to mostly control what news and advice Trump receives from his staff. But if that's true, the change is difficult to discern from the outside, since Trump's outlandish behavior has remained constant.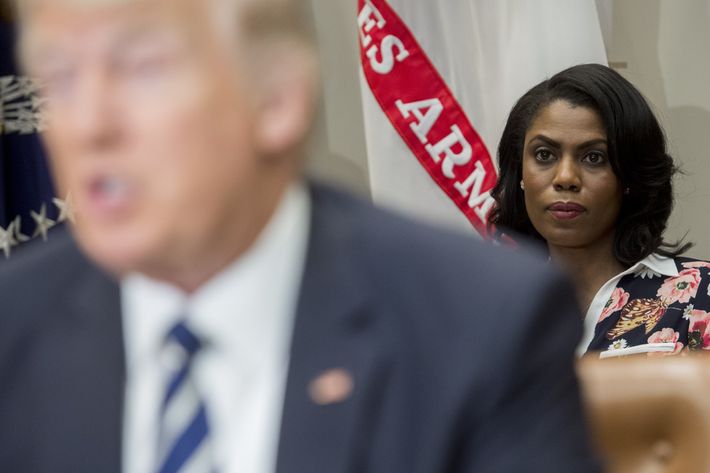 In the end, the problem is as much about demand as supply, since the president will always seek out his own information and, in that sense, probably wants to be triggered. Also, as the Beast reports, any members of his inner circle who get boxed out by Kelly will just find the next path of least resistance:
To be sure, the president still uses his private cellphone to speak with and solicit advice from a small inner circle of longtime aides and friends, Manigault among them. Though Kelly has sought to limit and streamline the pipeline of information into the Oval Office, there's not much he can do about the president's penchant for calling up his closest advisers, even at odd hours, once his staffers depart for the evening.




As Kelly has clamped down on the information that reaches the president through official channels, Trump's inner circle has increasingly reverted to phone calls with the president directly. The sense is that Kelly is essentially powerless to block Trump off from a coterie of friends and allies that predate the White House by years.
The New York Times reported on Friday that, according to his aides, Trump has been impressed with Kelly's managerial acumen, repeatedly remarking to others that "I now have time to think." On the other hand, what Trump chooses to think about in that time is still heavily dependent on the right-wing noise machine. Explains the Times:
Mr. Kelly cannot stop Mr. Trump from binge-watching Fox News, which aides describe as the president's primary source of information gathering. But Mr. Trump does not have a web browser on his phone, and does not use a laptop, so he was dependent on aides like Stephen K. Bannon, his former chief strategist, to hand-deliver printouts of articles from conservative media outlets.




Now Mr. Kelly has thinned out his package of printouts so much that Mr. Trump plaintively asked a friend recently where The Daily Caller and Breitbart were.
Kelly has even listened in on calls to Trump from outsider advisors when they come through the White House switchboard, though Trump's personal phone remains a source of problems.
This week, the Washington Post reported that — as anyone who has ever paid even partial attention to Trump could have predicted — the president is already chafing at Kelly's controls. Some people in Trump's inner circle have been calling Kelly the "church lady," according to the Post's sources, and the president sneaks in phone calls with whomever he wants behind Kelly's back.
The Times also reports that Trump berated Kelly a day after the president's unhinged Arizona rally speech in August, and that Kelly, a Marine general, later told colleagues that he had never experienced such treatment in his 35-year career and would not tolerate it again. When Kelly might decide to quit has apparently become an open guessing game among White House staff.