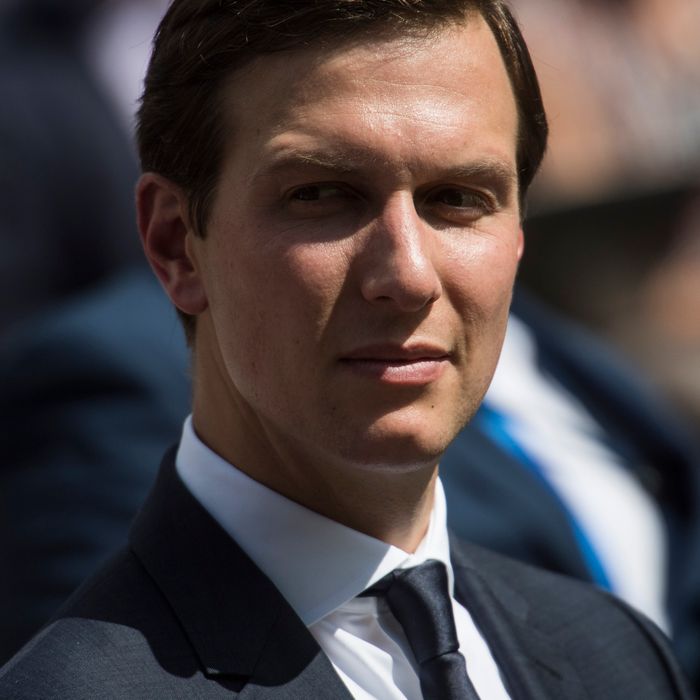 Kushner is winning the game of thrones, but not much else.
Photo: The Washington Post/The Washington Post/Getty Images
Jared Kushner is a man with an extraordinarily long task list, and an extremely low success rate. Perhaps he's still plugging away at a Middle East peace deal and streamlining the federal government, but so far he and wife Ivanka Trump have failed to keep the president from killing the Paris climate deal, banning transgender people from the military, and defending white nationalists after the violence in Charlottesville.
Yet Kushner has been extremely successful at fending off those who challenge his ability to remain in the White House and get very little done. He was said to support the ouster of former chief of staff Reince Priebus, who would have liked to do away with the competing power centers in the White House. Prior to former press secretary Sean Spicer's departure, Kushner was said to be annoyed that his press shop wasn't defending the president (and his favorite son-in-law) more vigorously in the Russia matter. Apparently, Kushner also won his rumored feud with former chief strategist Steve Bannon, who retreated to Breitbart in recent weeks.
On Monday, The Wall Street Journal reported that Kushner even triumphed over the advice of President Trump's legal counsel. Sources say that earlier this summer, several of the attorneys Trump hired to defend him in the Russia probe concluded that Kushner should step down from his role as senior White House adviser. They felt Kushner's presence at the White House raised too many potential legal complications, as he met with a number of Russian officials during the campaign, and initially failed to mention more than 100 contacts with foreign officials when he applied for security clearance.
Trump's lawyers reportedly became aware of Kushner and Donald Trump Jr.'s meeting with Russian officials long before it became public, though the president claimed he learned of it from press reports. They even prepared a statement to explain why Kushner was stepping down:
Anticipating that the meeting would become public, members of the legal team in June already had developed talking points to manage the political fallout — including a statement that would explain a potential Kushner resignation. The statement on behalf of Mr. Kushner expressed regret that the political environment had become so toxic that what he viewed as a standard meeting was becoming a weapon for Mr. Trump's critics, according to two people familiar with the documents.
Some of Trump's attorneys raised these issues with the president in June, but he disagreed with their conclusion that Kushner needed to go, because, according to one person, he felt his son-in-law hadn't done anything wrong.
Weeks ago, Axios and the New York Times reported that Trump's team of private attorneys had become frustrated that Kushner kept "whispering in the president's ear" about the Russia probe, and wanted to keep a wall between them. For whatever reason (there were several), a short time later, the leader of the legal team, longtime Trump attorney Marc Kasowitz, and his spokesman, Mark Corallo, had stepped down.
Kasowitz denied that he brought concerns about Kushner to the president. "I never discussed with other lawyers for the president that Jared Kushner should step down from his position at the White House, I never recommended to the president that Mr. Kushner should step down from that position and I am not aware that any other lawyers for the President made any such recommendation either," he said.
The remaining attorneys seemed eager to note that they didn't push for Kushner's exit either. And they think Kushner is a fine human being, not that anyone asked. Per the Journal:
John Dowd, who first joined the legal team in June and now heads it, said in an interview Monday that "to my knowledge" the proposal wasn't taken to Mr. Trump. Mr. Dowd also said he did not side with some of his colleagues who believed Mr. Kushner needed to go.




"I didn't agree with that view at all. I thought it was absurd," Mr. Dowd said. "I made my views known." He called Mr. Kushner "absolutely terrific" and "a great asset, real gentleman, a pleasure to work with."
And the Washington Post:
In a statement Monday night, White House lawyer Ty Cobb blamed the disclosure of the internal debate on former White House staffers seeking to tarnish Kushner, who Cobb described as "among the President's most trusted, competent, selfless and intelligent advisers."




"Those whose agendas were and remain focused on sabotaging him and his family for misguided personal reasons are no longer around," said Cobb, who was brought aboard in July to specialize in the Russia inquiry. "All clandestine efforts to undermine him never gained traction."
That's a pretty clear reference to Bannon, who told 60 Minutes he was against Trump's ill-fated firing of FBI director James Comey, without confirming reports that Kushner advocated for his dismissal.
Kushner has consistently made the Russia scandal much worse for Trump, and many have argued that he shouldn't have security clearance, particularly after pursuing a secret back channel to Moscow. But as long as Trump believes his son-in-law, alone, can fix all the world's problems, he's safe.