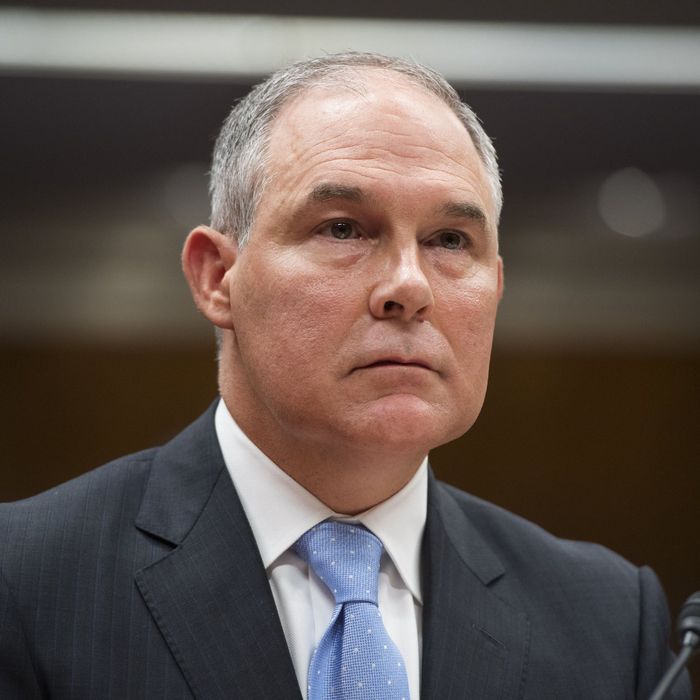 Pruitt is not a big fan of flying in coach. EPA directors: They're just like us!
Photo: SAUL LOEB/AFP/Getty Images
Earlier this week, former HHS secretary Kathleen Sebelius said she found it "stunning" that her successor Tom Price spent $400,000 on at least 24 flights on private charter planes, as she only took one private flight — to remote Alaskan villages — during her entire five-year tenure.
Now Price has a new defense: He's not the only Trump official spending large sums of taxpayer money on noncommercial flights. Environmental Protection Agency Administrator Scott Pruitt spent $58,219.19 on four military and private flights between February and August, according to information provided to a congressional oversight committee.
The most expensive flight occurred on June 7, when Pruitt took a military jet from Andrews Air Force Base to Cincinnati, where President Trump was discussing his infrastructure plan. Then Pruitt and several staff members took the military jet to New York so they could catch a flight to Italy for an international conference of energy ministers. That trip cost $36,069.
In July, Pruitt and his staff took a Department of Interior plane to make several stops in his home state of Oklahoma: First they went from Tulsa to Guymon for a town hall with farmers, then they took the same plane to Oklahoma City. EPA officials said driving to Guymon would have taken ten hours round trip, and he needed to meet with state officials in Oklahoma City — though, as the Washington Post notes, no such meeting is listed in his calendar. The flights around Oklahoma cost taxpayers more than $14,000.
On August 4, Pruitt and his staff took a private air charter from Denver to Durango, Colorado, at a cost of $5,719. The EPA said the commercial flight he booked "was delayed ultimately for eight hours, which would have caused him to miss a mission critical meeting at Gold King Mine" with Governor John Hickenlooper.
Then on, August 9, Pruitt took North Dakota's state aircraft, at the governor's invitation, to an event in Grand Forks that involved touring the University of North Dakota's Environmental Research Center. The price tag: $2,144.
The records also said Pruitt and his team fly in business or first class when possible, as he's "entitled to business class accommodation due to security concerns." An EPA spokeswoman says he's flown coach on multiple occasions.
Pruitt's noncommercial travel doesn't sound as extravagant as Price's. While federal employees are only supposed to take private flights under extraordinary circumstances, Politico reports that during Price's jaunts he managed to make time for a long lunch with his son, and showed up to a conference at a resort 40 hours early. But it seems Pruitt has the HHS secretary beat when it comes to strange office accessories. Earlier this week, the Washington Post reported that the EPA spent nearly $25,000 to construct a secure, soundproof communications booth in Pruitt's office. It's unclear why he needs the custom "privacy booth," since the EPA has what's known as a Sensitive Compartmented Information Facility, where officials can view classified information, on another floor in the building.
The EPA's inspector general announced last month that it was launching a probe of Pruitt's travels in Oklahoma following "congressional requests and a hotline complaint." Price's travels are undergoing an internal review as well, and on Wednesday the House Oversight Committee sent out letters requesting details on all cabinet officials' use of noncommercial flights.
Price was criticized by President Trump on Wednesday, who said, "We'll see" when asked if — like cabinet officials from previous administrations — he might lose his job over his lavish travels.
"I was looking into it, and I will look into it. And I will tell you personally, I'm not happy about it," Trump said. "I am not happy about it. I'm going to look at it. I am not happy about it, and I let him know it."
Trump hasn't commented on Pruitt's spending, and he's defended Treasury Secretary Steven Mnuchin, who took a government plane on a trip that included a viewing of the solar eclipse in Kentucky. His reaction to Price might have more to do with his failure to get Obamacare repeal passed in Congress (he told Price this was a fireable offense onstage at the Boy Scout Jamboree).
According to Politico, sources said several advisers are urging Trump to fire Price. They also reported that Trump was shocked by his behavior. Wait until he finds out about those old accusations of insider trading.