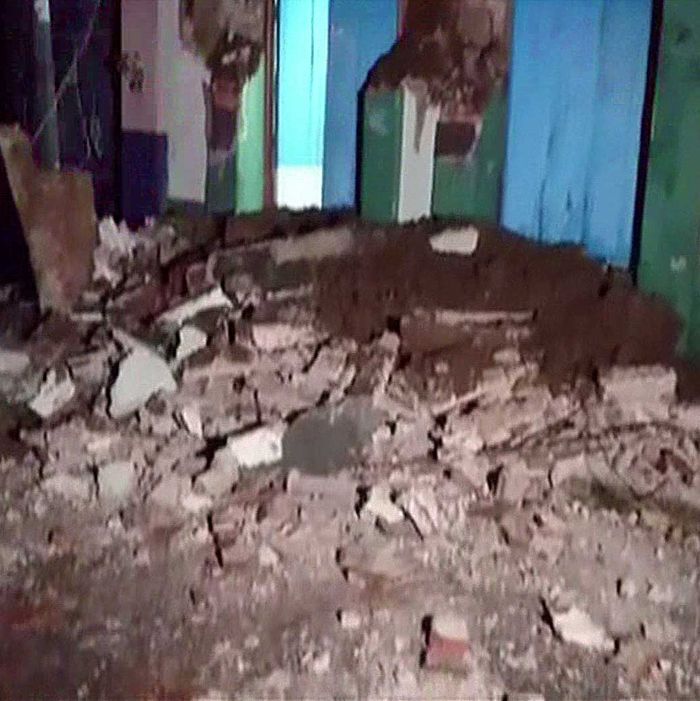 Damaged building in Oaxaca
Photo: Oscar Garcia/AFP/Getty Images
A 8.1-magnitude earthquake struck Mexico at 11:49 p.m. on Thursday night. The epicenter was located around 102 miles off the coast of Tapachula in the state of Chiapas, near the border with Guatemala. The quake was followed by five smaller aftershocks, including a 5.7-magnitude quake 50 miles to the northwest.
Mexico's civil protection agency told Reuters that the quake was the strongest to hit the country since 1985. It was felt over 600 miles away in Mexico City, parts of which are now without power.
Chiapas governor Manuel Velasco said that at least three people had been killed in San Cristóbal de las Casas. "There is damage to hospitals that have lost energy. Homes, schools and hospitals have been damaged," he said. The governor of neighboring Tabasco said that two children in his state had died. Damage and at least one death were also reported in Guatemala.
According to the United States Geological Survey, people in the region most affected by the quake "reside in structures that are a mix of vulnerable and earthquake resistant construction," meaning that "high casualties and extensive damage are probable and the disaster is likely widespread."
A tsunami warning was issued for Mexico, Guatemala, El Salvador, Costa Rica, Nicaragua, Panama, Honduras, and Ecuador. The Pacific Tsunami Warning Center reported that the quake had triggered "small" tsunami waves of 2.3 feet and that more "hazardous" waves might arrive within hours.
This post has been updated throughout.