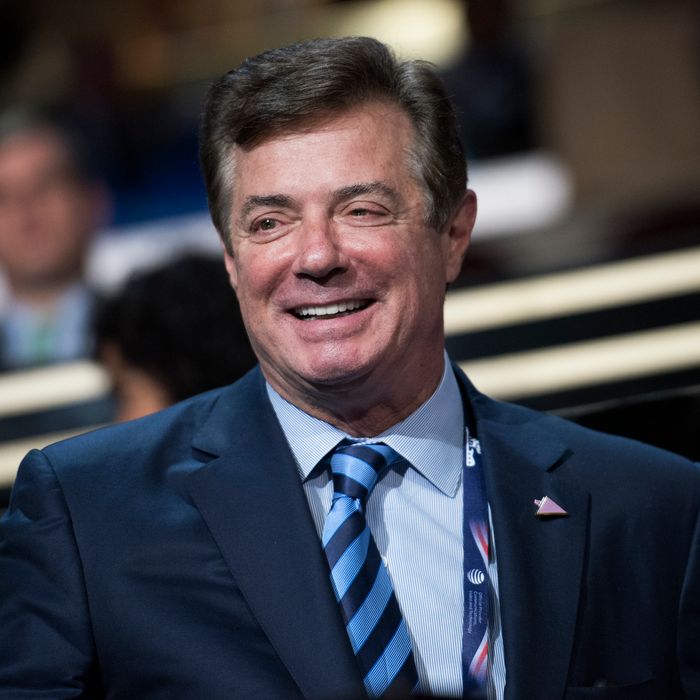 Paul Manafort.
Photo: Tom Williams/CQ-Roll Call,Inc.
A month into his stint as Donald Trump's campaign manager, Paul Manafort emailed a close ally of Vladimir Putin, offering "private briefings" on Trump's bid for the White House, the Washington Post reports. The emails are part of a trove of materials that special counsel Robert Mueller is digging through and another piece of leverage in his reported attempt to flip Manafort into serving as a witness against Trump.
Though he's not named in Manafort's email, the Putin ally is believed to be wealthy aluminum magnate Oleg Deripaska, who was referred to in a 2006 diplomatic cable leaked by WikiLeaks as "among the 2-3 oligarchs Putin turns to on a regular basis."
Investigators don't have any evidence that Deripaska took Manafort up on his offer and a spokeswoman for the billionaire oligarch brushed off the idea. Manafort spokesman Jason Maloni told the Post the offer was for a "routine" briefing and said none ever took place anyway.
Still, Mueller's team thinks it has something, the Post says:
Nonetheless, investigators believe that the exchanges, which reflect Manafort's willingness to profit from his prominent role alongside Trump, created a potential opening for Russian interests at the highest level of a U.S. presidential campaign, according to people familiar with the probe.
Manafort and Deripaska, who has previously been denied entry into the U.S. because of ties to organized crime, admit to having a relationship. In 2008, Manafort helped Deripaska set up a meeting with then–presidential candidate John McCain and later Manafort was paid to work for the billionaire as an investment consultant.
As Mueller attempts to put the screws to Manafort, he also appears to be aggressively investigating whether President Trump has has committed obstruction of justice since moving into the White House. Reports Wednesday from both the Post and the New York Times say Mueller's team has asked the White House for records relating to the firings of former FBI director James Comey and former national security adviser Mike Flynn, among other things.
Mueller is also interested in learning everything he can about the meeting in which Trump told Russian officials that firing Comey relieved "great pressure" and the now-infamous meeting between Donald Trump Jr. and a Russian attorney. White House lawyer Ty Cobb has begun to comply with the special counsel's request and told the Post, "We are committed to cooperating fully."