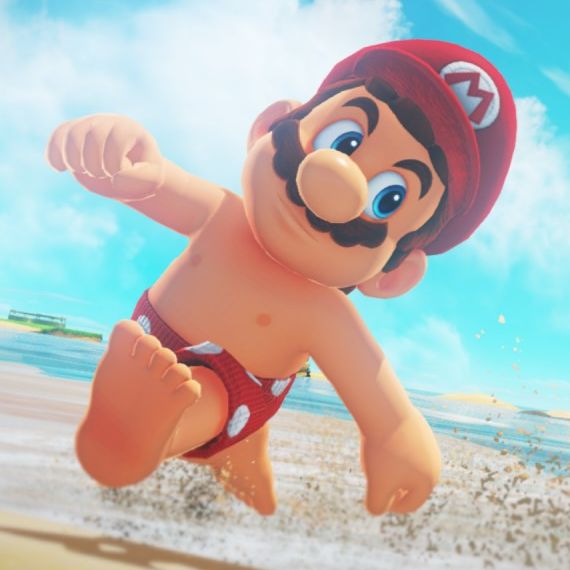 In a livestream yesterday, Nintendo detailed its upcoming slate of games for this holiday season and beyond. I'm trying to remember what the company announced (a Pokémon something? A new … Kirby?), but I'm drawing a blank because all I — and anyone else — can think about now are Mario's nipples. Mario's nipples will make their big-screen debut in Super Mario Odyssey this October.
Yep, it's true. Mario has nipples and people are excited (???) about it. He's on a beach, in his swim trunks, and his areolae are on full display. This shouldn't be that surprising, because Mario is ostensibly a human being, but for some reason it is. Mario's got two nipples, and now you can see them in the game. Fascinating.
Fans are fiercely debating the lore and origin of Mario's nipples.
Meanwhile, on Tumblr …
According to Google Trends, which measures the relative popularity of search trends over time, queries for "Mario nipples" spiked yesterday minutes after the announcement, shortly before 7 p.m. on the East Coast, and reached an all-time high overnight, presumably as Europeans rose from their beds to greet the dawn (and Mario's nipples).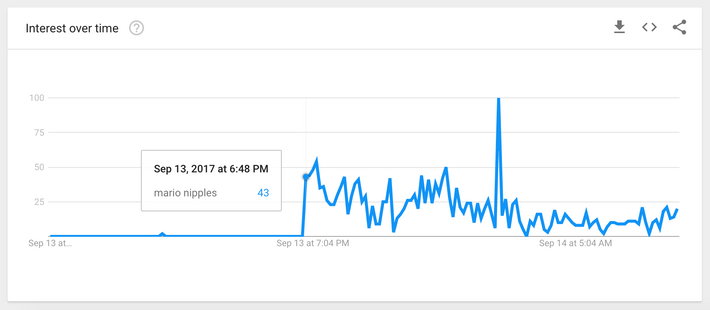 Searches were most prevalent in the U.S., Canada, the United Kingdom, and Australia. Freaks.