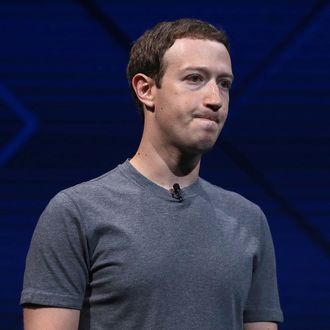 Mark Zuckerberg.
Photo: Justin Sullivan/Getty Images
Mark Zuckerberg is (supposedly) not running for president. But he does have some thoughts on what the current president should be doing with the office. On Thursday, Zuckerberg posted a status supporting DACA — Deferred Action for Childhood Arrivals — and urging Trump and his fellow politicians to keep legislation protecting Dreamers — undocumented immigrants younger than 35 who were brought to the United States by their parents — from deportation. (Trump's decision on whether or not to end DACA, a program started by Obama, is expected sometime this weekend.) "We need a government that protects Dreamers. Today I join business leaders across the country in calling on our President to keep the DACA program in place and protect Dreamers from fear of deportation," Zuckerberg wrote. "We're also calling on Congress to finally pass the Dream Act or another permanent, legislative solution that Dreamers deserve." When commenters criticized the CEO's status, Zuckerberg jumped in to defend his statements and to defend Dreamers.
One commenter, Carl, griped that if Dreamers have lived in this country for years, they should have done "the work to become citizens." Zuck wasn't having it. "Carl: there is currently no pathway for undocumented immigrants to become citizens while living here. I've mentored a student who would like nothing more than to get his citizenship and maybe run for office one day, but he currently has no way to do that." Another commenter, Laurie, complained about having to pay fines if she breaks laws, while undocumented immigrants aren't subject to such penalties. "Laurie: you mention paying a fine, and the Dreamers have to pay a fee of $495 to get DACA status and each time their status is renewed," Zuck replied. He also replied to comments about immigrants jumping fences. "It's tough to jump over a fence when you're 1 or 2 years old," Zuckerberg wrote.
He also noted that in mentoring Dreamers, he's seen "how deep their commitment is to this country and how much their education matters to them," and that many of the Dreamers Zuckerberg knows are "in college studying computer science or working in the high tech jobs," and that "a lot of these Dreamers are the immigrants you want in this country." Which is, not to besmirch Zuckerberg's defense of some critically important legislation, not just good for the country, but good for his business. The more people studying computer science and looking to work high-tech jobs, the better, as far as Facebook is concerned.